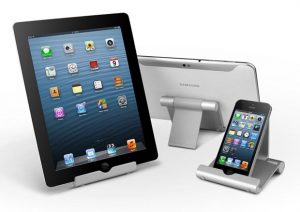 Whether you want to watch Netflix, study a recipe, or present a slideshow, there are plenty of times when you need your iPhone, iPad or Android device to stand up on its own.
On sale for $9 (normally it's $40), Anker's adjustable aluminum phone and tablet stand might be just the ticket. Boasting rubber pads to protect your precious device and rubber feet to keep it from slipping, Anker's 3.6-ounce "multi-angle" stand works with just about any make or model of smartphone or tablet, and it's available in silver and black.
Check out the Anker Multi-Angle Aluminum Stand on Amazon!
If you buy something through our Deals posts, we may earn some money. Thanks for the support!