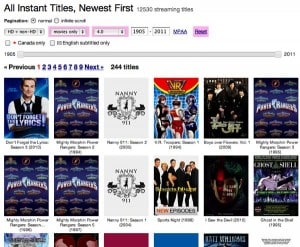 Still annoyed that Netflix's recent website redesign won't let you sort through the video giant's massive cache of streaming movies and TV shows?
Well, you could try this simple hack in your browser's address bar—a crude solution, but it works.
But there's also another, somewhat easier option: a must-bookmark website that sorts, slices and dices Netflix's selection of "watch instantly" movies in just about every way imaginable.
Update [7/12/11]: Good news, Netflix fans. Netflix just announced that it will re-enable sorting for instant videos starting "later this month."
Launched about two years ago, InstantWatcher.com taps into Netflix's database of "Watch Instantly" titles and offers a eye-popping number of genres, categories and rankings.
Genres range from Action Classics to Westerns, and you can also poke through categories such as New York Times critics picks, "fresh" movies as determined by Rotten Tomatoes (a site that aggregates movie reviews), movies with subtitles, popular and new titles, and about-to-be-yanked videos (a particularly handy feature, given the arbitrary way in which Netflix adds and removes instant titles from its collection).
Perhaps best of all, InstantWatch lets you can sort listings by year or star rating, an option that Netflix (bizarrely) nixed as part of a recent, wildly unpopular site redesign.
A "premium," $10-a-year subscription to InstantWatcher lets you sort your Netflix queue using InstantWatcher's sorting and filtering tools, as well as give you the ability to move instant titles from your official Netflix queue into a "virtual" saved queue on InstantWatcher.com.
Still, most of InstantWatcher's best features don't require a paying membership, including the ability to add instant titles your Netflix queue directly from the site (which, incidentally, works its magic with the help of web-based tools offered by Netflix to outside developers).