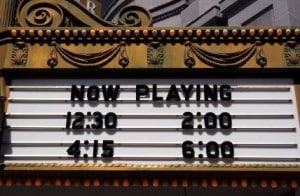 How many movies do you regularly see in a month—in a movie theater, mind you? If the answer is more than five or so (bravo, by the way), check out MoviePass, a new mobile service that offers all the movie tickets you can stand for $50 a month.
MoviePass will be raising the curtain on its first, private beta test this weekend in more than a dozen San Francisco Bay Area theaters, Wired reports, with a nationwide launch slated for the fall.
MoviePass subscribers will simply flash their smartphones at the box office for admittance, according to Wired, although they'll have to cough up $3 extra for 3-D or IMAX features.
Given that the average price for a movie ticket these days is about $10 for adults (more like $15 each here in New York), MoviePass could be a bargain for die-hard cinephiles who go to the movies more than five movies a month.
Interesting, I guess … although the last time I actually went to the movies anywhere near that often, Netflix hadn't been invented yet. And I love movies.
So, do unlimited movies at a theater for $50 a month sound like a bargain?
Update [7/1/11]: Bad news, movie fanatics. NewTeeVee reports that theater exhibitors aren't all that keen on the MoviePass ideas—and without any deals in place, the company's plans for a private beta in San Francisco are in jeopardy.
Source: Wired