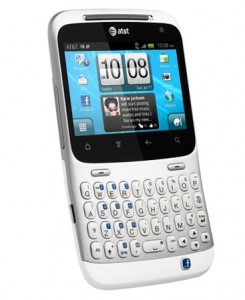 Yep, the rumors were true. Smartphone maker HTC just announced that the Status, a new Android-powered handset with a full QWERTY keypad and its own, dedicated Facebook button, is set to arrive on AT&T later this summer.
Details on a price tag and exact release date for the Status—which, naturally, has its own Facebook fan page—are "coming soon," HTC says.
Known overseas as the ChaCha, the Status boasts a 2.6-inch touchscreen with a QWERTY keyboard sitting just beneath, BlackBerry-style.
Beneath the keypad: a telltale blue Facebook button, which you can press to quickly share webpages, photos, music, videos, and other online content with your Facebook pals. The phone will also display the profile picture and last status update of any Facebook buddies you happen to call.
In back, the Status packs in a five-megapixel camera, while in front you'll find a smaller lens for video chat.
So, anyone interested in a smartphone with its own Facebook button?