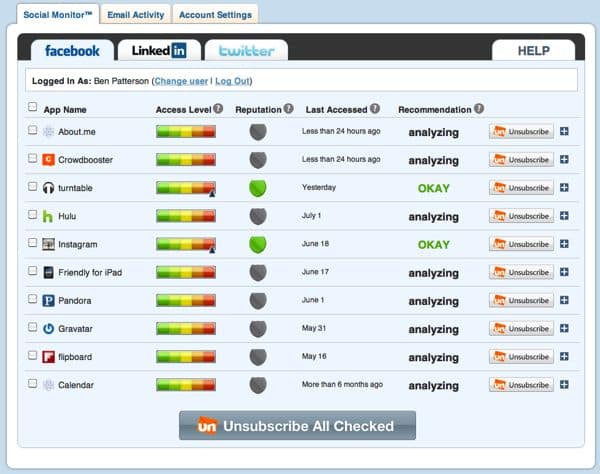 Lost track of how many apps you've invited into your Facebook account? You're not the only one. Luckily, there's a new (and free) service that'll perform a quick audit of your various Facebook, Twitter and LinkedIn apps and grade them based on their trustworthiness—or lack thereof.
With the help of a small browser plug-in (which takes just a few seconds to install), Unsubscribe.com's Social Monitor scans all your social apps and advises you which ones it believes are safe to keep, and flags others that might be playing fast and loose with your privacy.
Once the plug-in (or, strictly speaking, the browser extension) is up and running, you'll need to register with Unsubscribe.com (a simple matter of submitting your name and email address, and then choosing a password). After that, a pop-up will appear with a big, green "Start Analyzing" button; press it to begin scanning. If you're already signed in to Facebook and Twitter, Social Monitor should deliver a report on any and all of your installed social apps almost immediately.
(Related: 6 ways to lock down your Facebook account)
Starting with Facebook, you'll see a complete list of apps (anything from the Facebook Calendar app to FarmVille) and websites (like, say, Hulu or Pandora) with access to your account, along with a color-coded access-level indicator. Code green means the app may, for example, only be poking around your already public info. On the other hand, apps with the ability to post to your Facebook wall or access your data 24/7 will push the needle into code-red territory.
The chart also features a reputation assessment (green for app developers with strict privacy guidelines and great track records, red for those with a history of shifty apps or a reluctance to respond to comments or questions) as well as a record of the last time an app was accessed.
Finally, Social Monitor crunches all that data and delivers a recommendation for each app: "okay," "caution," or "remove," with apps that you haven't accessed in more than 90 days getting an automatic "remove" recommendation. To delete an app, just click the "Unsubscribe" button. (If you see an app that you believe was unfairly flagged for removal, you can always let Unsubscribe's support reps know.)
Done with Facebook? Social Monitor also has tabs for Twitter and LinkedIn, although you'll have to log into your LinkedIn account manually to begin scanning.
Of course, scanning your apps with Unsubscribe's Social Monitor service entails trusting Unsubscribe. If you'd rather manage your social apps yourself, you can do it directly through Facebook (click Account, Privacy Settings, and "Edit your settings" under Apps and Websites), Twitter (click your user ID in the top right corner of the page, select Settings, and click the Applications tab), or LinkedIn (click your name in the top right corner, select Settings, click the "Groups, Companies & Applications" tab, then select the "View your applications" link).
Click here for more information about Social Monitor, or to sign up.