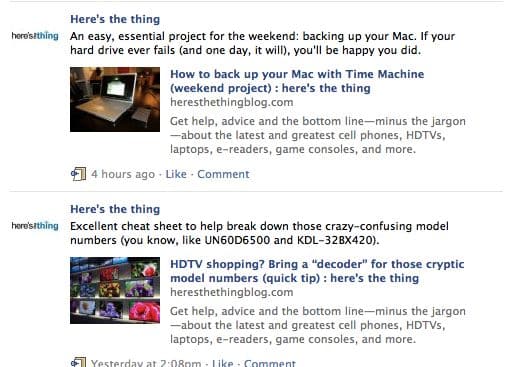 Want to keep tabs on the latest doings at here's the thing? If you're already on Facebook, it's a piece of cake—and if you're brave enough to try Twitter, you can follow along there, too.
Following on Facebook
Getting regular updates from here's the thing on Facebook couldn't be much easier. All you need to do is visit our Facebook page—it's right here—and then click the big "Like" button next to the title of the page. You can also click the "Like" button in the Facebook module sitting in the right-hand column of this page.
(Related: What happens when you "like" something on Facebook?)
Easy, but what happens now? Basically, you'll start seeing updates from the here's the thing fan page in your own News Feed.
Only you will see the updates, mind you, not your friends—although if you do want to share a particular story with your Facebook pals, just click the Share button to post the article to your wall.
Another, even easier option is to simply "like" a post by clicking the Like button.
I'll only post two to four items a day on the here's the thing Facebook fan page—but if that proves too much, you can always hide my posts by click the little "x" next to a story and selecting "Hide this post" or "Hide all posts by Here's the thing." And if you've truly had enough, you can choose "Unlike this page."
Following on Twitter
You can also use Twitter to keep an eye on here's the thing—and the best way to do so is to follow yours truly.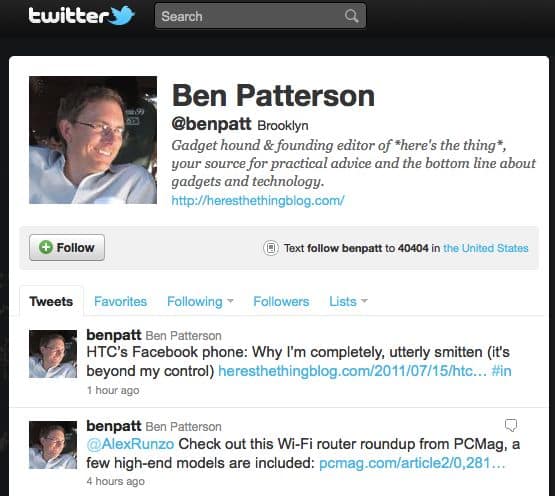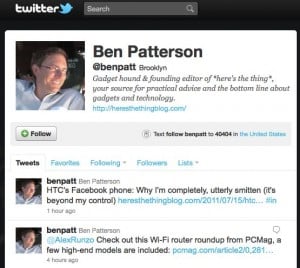 Just click here to take a gander at my Twitter feed, where I post most of my daily here's the thing articles. You'll also see occassional chit-chat between me and other Twitter users.
If you want to see my updates in your own Twitter feed, well … first, you'll need your own Twitter account, of course.
Visit the Twitter.com home page to sign up and pick a Twitter handle; mine is "benpatt," or @benpatt as we say in the world of Twitter.
Once you're all set with an account, visit my Twitter feed again and click the "Follow" button—and from then on, you'll see my tweets in your main Twitter page.
You can also simply click this button here: Follow @benpatt

There are plenty of other people to follow on Twitter, of course, from Lady Gaga and Oprah to President Obama and the Pope—and who knows, you may end up tweeting a little yourself, too. Just remember that on Twitter, your updates are public by default, so don't tweet anything you wouldn't want the whole world to see.
Have any questions about following here's the thing on Facebook and Twitter? Don't hesitate to let me know.
See you online—and have a great weekend. I'll be back bright and early Monday.