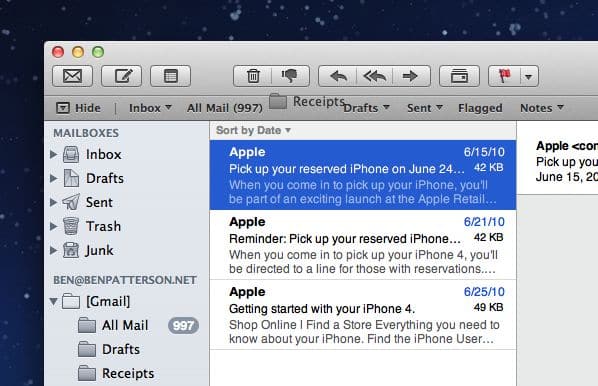 The new, iPad-like Mail application in Mac OS X Lion (the revamped system software for the Mac that just went on sale) boasts just two columns: one with a list of messages, and another that shows the body of a selected message.
Personally, I love the new, cleaner look—but it wasn't long before I unhid a third column that shows a long, junky list of email folders (a.k.a. mailboxes).
Why? Because I'm constantly sorting new messages in my inbox from one folder or another, and the handful of folder shortcuts in Mail's new Favorites bar (like Inbox, Drafts, and Sent) simply were sufficient for my frequent message-shuffling needs.
Or so I thought.
It turns out that in Lion, you can drag a mail folder—any mail folder—from the Mailboxes column (which you can reveal by clicking the "Show" button in the upper-left corner of the Mail interface) into the new Favorites bar.
(Related: Top 5 ways that "Lion" turns your Mac into an iPad)
Very nice—and given this is the Mac operating system we're talking about, I'm a little embarrassed I didn't just try dragging and dropping those mailboxes earlier.
Best of all, now I can hide that ugly column of mailboxes again. I love it.