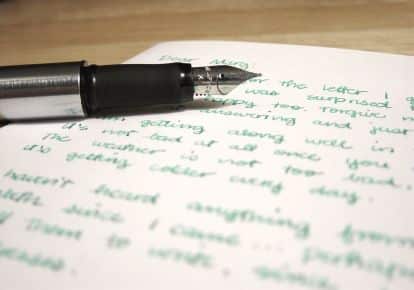 There's nothing easier than firing off a quick email, tweet, or Facebook message to a friend or loved one, but the creator of a fanciful new website thinks there's something a little "more meaningful" about an actual, handwritten letter.
Feel the same way? Then you might get a kick out of Snail Mail My Email, a free "community art project" in which a staff of more than 200 volunteers take submitted email messages (100 words or less, please), write them out in beautiful, honest-to-god handwriting, put them in stamped envelopes, and hand them over to (human) postal carriers.
Why? Because "there's something warm and fuzzy about coming home and checking the mail and getting a letter from a friend," Snail Mail My Email creator Ivan Cash told the Wall Street Journal. "It's such an intimate form of communication, especially in today's world."
Nice, but nothing lasts forever—particularly when it comes to free "interactive" art projects.
Volunteers at Snail Mail My Email will only keep scribbling until August 15, when Cash's online experiment in old-school communication is slated to close up shop.
Source: Wall Street Journal