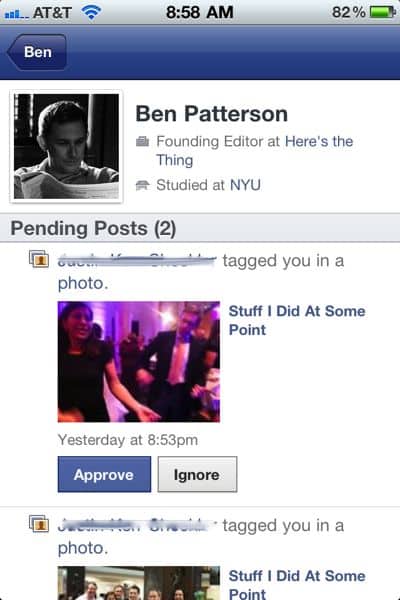 Some of the best new Facebook privacy controls—including the ability to pick and choose who you share your posts and photos with—just landed on Facebook's iPhone app.
Available now on the App Store, version 3.5 of Facebook for iPhone also adds several other new features from the main Facebook web site, including the ability to tag friends and "places" in your updates, as well as the option to review any new photos in which you've been tagged.
I went ahead and tested the revamped Facebook for iPhone app this morning, and one of the first things I noticed was, indeed, a notification that I'd been tagged in two new photos. Time for a quick review, yes?
Tapping the notification lets you check out the photos in question—in this case, snapshots of me gyrating on the dance floor at a recent wedding. Not too incriminating, I suppose, so let's go ahead and post 'em to my profile page.
Just tap Accept to post the photos to your profile or Ignore to keep the offending snapshots off your wall. There's also an Accept All button to rubber-stamp every tagged photo in one fell swoop.
Ready to share a status update? Tap Status, and you'll find a few of new icons at the bottom of the input window: one that lets you select who you want to share your post with (from Public and Friends down to specific friends lists), another that lets you tag a friend in a post, and a third that tags a nearby place (with a little assistance from your iPhone's GPS chip).
Also new: spruced-up Profile and Group pages (which now display a few tidbits of personal and group trivia near the top, similar to the Facebook web site), as well as the option to share a link that you're viewing from the Facebook app's built-in web browser.
All in all, a relatively feature-packed update, and a must-have for iPhone-toting Facebook users. Go ahead and grab it here.