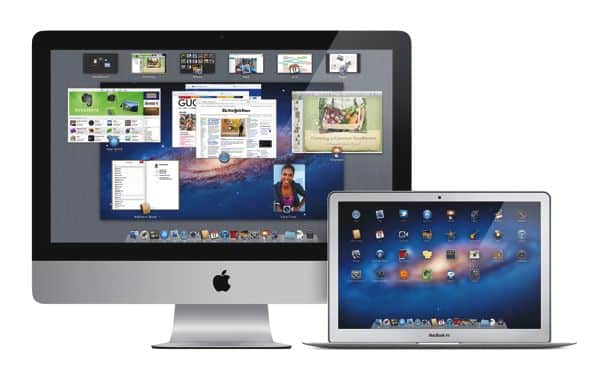 Matt writes: I've got an old 17-inch MacBook Pro from mid-2007. I'm wondering if this computer is powerful enough to upgrade to "Lion." And do you think Lion is ready for regular users?
Hi Matt! There's an easy way to check if your MacBook Pro has what it takes to run "Lion," the latest update to the Mac operating system. Whether Lion's ready for you is, of course, another question.
Just go to your Mac destop, click the Apple menu in the top-left corner, and select "About This Mac." Now, in the pop-up window that appears, look where it says "Processor" and read the specification.
Now, does the processor section have any variation of "PowerPC," or does it read "Intel Core Duo"? If so, I'm sorry—no Lion for you.
If you have an Intel Core 2 Duo processor, or an Intel Core i3, i5, or i7, good news: you're ready to upgrade to Lion (and here's how to do it).
As a general rule of thumb, any iMac or MacBook Pro purchased in late 2006 or later will have at least an Intel Core 2 Duo processor under its hood—which means just about any Mac that's less than four or five years old should be Lion-ready.
So, Matt: since you got your 17-inch MacBook Pro in 2007, your Mac should be ready for Lion.
But here's the next question: Is Lion ready for you? After all, Apple only released Lion a few months ago, and fresh operating system updates are prone to glitches and other bugs.
Indeed, there have been reports of various Lion bugs ranging from spotty Wi-Fi reception to poor MacBook battery life. Apple has since released a software patch to iron out at least some of the initial kinks.
I've been running Lion on three different Macs since Day One—a 15-inch MacBook Pro from 2007, a MacBook Air from 2009, and a 2010 iMac—and so far, I haven't run into any serious problems.
Another thing to keep in mind, though, is that Lion sounds the death knell for any software that relies on PowerPC processors—the chips that powered most Macs released before 2006.
EverythingMac has a list of the major software packages that will no longer work under Lion, including Microsoft Office 2004, Intuit Quicken 2007, Adobe Creative Suite 2, and Filemaker 6.
For most of these apps, you can (and probably should) go ahead and simply upgrade to the latest versions, which are designed to work with Intel-based Macs.
Fans of Quicken 2007, however, are in a bit of a pickle, because the latest version of Quicken for the Mac—dubbed "Quicken Essentials"—jettisons many of the robust online and investment features in older versions of the program. Personally, I made the switch from Quicken 2006 (which was the last version I bought) to Essentials without skipping a beat; others, however, may want to explore some alternatives.
Last but not least, Lion features some design quirks that have annoyed many longtime Mac users, including the new "natural" scrolling feature and barely-there scroll bars. Luckily, you can turn back the clock on many of these features by tweaking the right settings in the System Preferences menu.
Hope this helps, Matt. Have more questions? Let me know!