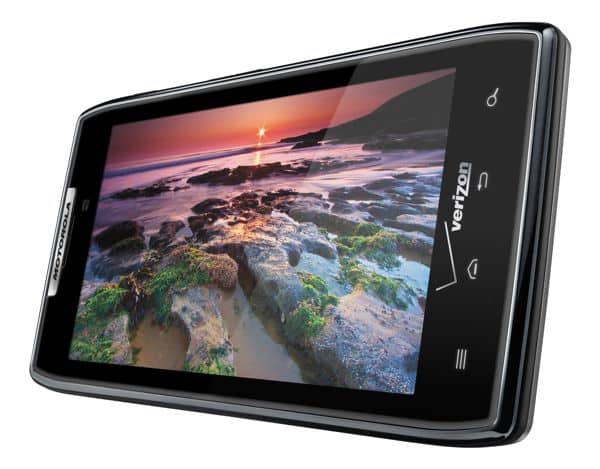 Remember the RAZR—the original must-have cell phone, which turned heads with its ultra-slim profile and cost upwards of $500 when it first came out six or seven years ago? (Has it really been that long?)
Well, the once-ubiquitous Motorola RAZR (indeed, the big carriers were handing RAZRs out for free near the end of the phone's long reign) is back, and it's thinner than even—so thin, in fact, that Motorola is billing it as the world's slimmest smartphone.
Running on the latest version of Android (2.3.5 "Gingerbread," to be precise), the new Droid RAZR boasts a turbo-charged processor (1.2 GHz dual-core, meaning two processors on a single chip for better speed and efficiency), dual HD cameras (one in back capable of shooting 1080p video, with a second HD lens in front for video chat), and a jumbo 4.3-inch display.
And here's a nice touch: "water-repellent nanocoating" for protection against "everyday spills."
Most impressive, though, is the RAZR's whisper-thin profile: a mere 7.1 mm at its thinnest point (the RAZR has a little speed bump-shaped ridge on its back panel back, near the top), versus 9.3 mm for the iPhone 4S. Weighing in at 4.47 ounces, the RAZR is also a bit lighter than the 4.9-ounce iPhone.
Related: iPhone or Android? 6 questions to ask yourself before deciding
Very nice, but don't expect the Motorola RAZR to beat the iPhone 4S in the price department. The 32GB RAZR will go on sale next month on Verizon Wireless for a relatively $299, with a new two-year contract—same as the 32GB iPhone 4S.
RAZR customers should also expect to cough up at least $30 a month in data fees to connect to Verizon's speedy 4G LTE network.
So, what do you think? Does the Droid RAZR look like a match for the iPhone 4S?