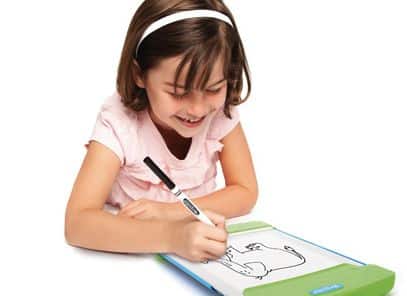 Letting little ones armed with felt-tip pens loose on your iPad sounds like a recipe for disaster—that is, unless you've got Crayola's new iPad case handy.
Made of "shatter-resistant" plastic (fingers crossed), the Crayola "Trace & Draw" case ($39) promises to turn the iPad 2 into an tablet-sized easel.
Just snap your iPad 2 into the plastic shell (which wraps all the way around the iPad's back panel), attach the included screen protector, clip on a sheet of drawing paper, and fire up Crayola's free iPad app, which features more than 35 digital drawings to trace.
Oh, and make sure your tykes use only the Crayola maker that comes in the "Trace & Draw" kit—and not, say, a ball-point pen or a sloppy paint brush. That wouldn't be good.