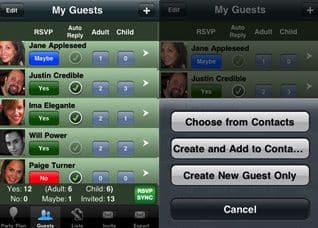 Forget the Post-it notes and endless scraps of paper with gift ideas. Instead, get organized this year with some simple iPhone apps and web sites that'll help whip your gift lists into shape, find the lowest prices for your gift picks, and manage all the moving parts of your holiday get-together.
Santa's Bag & Hanukkah Gift List (99 cents each)
This pair of handy apps (which, by the way, were built by the same developer) will let you set a shopping budget, add pictures for each person on your shopping list and keep track of whether a particular gift has been bought, wrapped, or given. There's even a place where you can jot down those fleeting gift ideas that always manage to slip your mind just when you need them.
Pic2shop (free)
Finding the best price on a gift for someone you love is icing on the cake. I use this app to scan the bar code of something I've found in a brick-and-mortar store and immediately find out where I can buy it for less. Most of time (you guessed it), you'll find cheaper prices online. You can also use Pic2shop to keep track of great gift ideas while browsing the aisles; just scan the bar code and tap a button to save the item to your wish list.
Pinterest (free)
Here's a site I never knew I needed. Once you sign up (Pinterest is still in "invitation-only" mode, but feel free to ask us for an invite), your "profile" is like a collage of themed bulletin boards. See a product online (anything from, say, a cell phone to a sweater) that would make the perfect gift? Just "pin" it to one of your boards using a bookmark in your browser, or with the free iPhone app.
Once you start pinning, your friends and "followers" on Pinterest can "like" or "re-pin" your picks; likewise, you can browse and favorite the pinned products of the Pinterest users that you're following.
Related: Visit the here's the thing Holiday Gift Guide on Pinterest
Simple Soiree ($1.99)
Holiday parties can be exhausting to plan, but this easy-to-use app helps me keep track of tons of miscellaneous details, from the RSVP list and the menu to the glass-to-guest ratio and which guest brought which gift.