Set to go on sale in a matter of days, the PlayStation Vita looks to be the most powerful handheld gaming console ever made. But how much will it cost to put all that gaming power in the palm of your hand—and why bother with another gadget when we've already got great games on our iPhones and Android phones? Read on for answers to those questions and more, after the break.
So, first things first: what is the PlayStation Vita, anyway?

It's a handheld gaming console that sits roughly in the same category as the Nintendo 3DS (the two-screened gaming device that's all the rage among the younger set) and the older PlayStation PSP (the Vita's predecessor).
Related: Hands-on review: Sony PlayStation Vita, and why parents who game will love it
Huh. So is the Vita just an expensive toy, then?

Well, no, or at least not according to the hard-core gamers eager to get their hands on it.
Armed with a five-inch, 960 by 544-pixel touchscreen, dual cameras, a motion-sensing accelerometer and gyroscope, and a powerful quad-core processor (that is, four processor cores on a single chip), the Vita packs in more horsepower than just about any smartphone or tablet currently on the market. According to those who've seen it in action, the Vita churns out the most eye-popping graphics ever seen on a handheld device.
How big is the Vita itself? Will it fit in my pocket?

Measuring 7.2 by 3.3 by 0.73 inches, the Vita makes for a fairly hefty piece of hardware compared to a smartphone. Is it small enough to fit into a purse or knapsack? Sure, but it's probably too big for a pocket.
How much does it cost, and when does it go on sale?

The Vita is slated to land in stores February 22, and like the iPad, it'll come in two versions: a 3G/Wi-Fi model for $299, and a Wi-Fi-only version for $249.
Also, Sony is offering a $349 "First Edition" bundle that includes the 3G-ready PlayStation Vita, a carrying case, a 4GB memory card (more on that in a moment), and an earlier release date—February 15, to be exact.
I can already play tons of great games on my iPhone/iPad/Android phone, so why would I need a Vita?

Great point—and indeed, the Vita is probably overkill for the average user who just want a few minutes of "Angry Birds" or "Words With Friends" while they're on the go.
But while touchscreen devices like the iPhone and iPad excel when it comes to inexpensive "causal" games, they're not so hot when it comes to games that require precision control or state-of-the-art visuals. The iPhone, for example, lacks the physical joysticks that you'd need to get the most out of a first-person "shooter" like "Call of Duty," and it must also divide its processing resources among a host of other core functions such as email, calling, text messaging, and any other resource-hungry apps that happen to be running.
(Now, don't get me wrong; there are some iOS games, like the superb Infinity Blade II, that push the envelope in terms of console-quality graphics and gameplay, but they're relatively few and far between.)
The Vita, on the other hand, boasts a pair of physical joysticks, same as on the controller for a home game console, and it can dedicate the lion's share of its muscular processor and roomy memory to games, and only games—a key factor for game developers looking to get the most out of the Vita's horsepower.
What kind of games are we talking about, and how much will they cost?

Among the 25-odd titles set to arrive on launch day are games that'll sound familiar to console gamers, including "Wipeout 2048" (a futuristic racing game), "Ninja Gaiden Sigma Plus" (think fast and furious ninja action), EA Sports FIFA Soccer, and Ultimate Marvel vs. Capcom 3 (a fighting game that pits such Marvel superheros as Spider-Man and Hulk against classic Capcom characters).
Perhaps the most anticipated Vita game on Day One, however, is "Uncharted: Golden Abyss," an all-new "Raiders of the Lost Ark"-style adventure based on the PlayStation 3's "Uncharted" series. Those who have played "Golden Abyss" say it's like playing a full-on PS3 game in the palm of your hand.
Very nice, but unlike the bargain games you can scoop up for iPhone and Android (typically $10 or less), Vita games will cost you a pretty penny. "Uncharted: Golden Abyss" goes for a hefty $50, while even the cheaper "casual" titles like "Hot Shots Golf" will run you $30.
What else can the Vita do besides games?

You can also browse the web, provided you're connected to the Internet via Wi-Fi or 3G; you'll also be able to pinpoint your location on a map, post updates to Twitter and Facebook, rent movies and TV shows, and find other nearby Vita gamers. Just don't expect the breadth of social and productivity apps that you'll find on Apple's App Store or Google's Android Market.
What are the biggest criticisms of the Vita?

Early reviewers of the Vita aren't wild about its battery life—just four to five hours, which means you'll need to need to keep the Vita's (proprietary) power cable handy if you plan on indulging in a lengthy gaming session.
The Vita also requires a removable memory card for storing games and data—and no, you can't use the same memory cards that work with your digital camera. Instead, you'll have to pony up for a special Vita storage card, and they're not cheap: think $20 for a 4GB card, all the way up to $100 for 32GB. Ugh.
Last but not least, there's the price of the Vita itself: $250, the same as the cheapest PlayStation 3 home console.
Should I buy one?

Well, that all depends on how you feel about games. If you have a PlayStation 3 or an Xbox 360 at home and yearn for playing console-quality games while you're on the go, the Vita could end up being your Holy Grail. If, on the other hand, you're perfectly content with casual games on your iPhone or Android phone, there's probably no need to cough up the cash for yet another device.
Even if you are a devoted gamer, you might want to think twice before cracking open your wallet on launch day. Why? Because many industry watchers think Sony will chop the Vita's hefty $250-plus price tag before the year is out.
Wait, I still have questions!

No problem—just post 'em in the comments below. And keep your eyes peeled for my hands-on review later this week.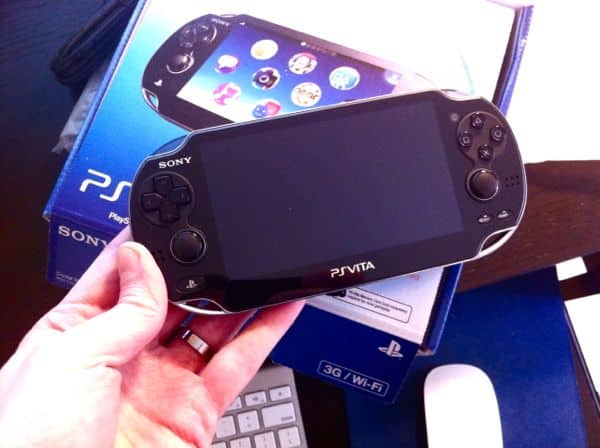 Update [2/15/12]: And look what arrived on my doorstep today! I'll be testing the Vita for the next few days; if you have any specific questions in the meantime, just let me know.
Update [2/17/12]: And here's my review!
So, anyone out there champing at the bit for the Vita, or are you just as happy playing games on a smartphone?
Note: Please read the community policy before posting a comment. Questions and constructive comments are always welcome, but flames from game-console fanboys will be deleted on sight.