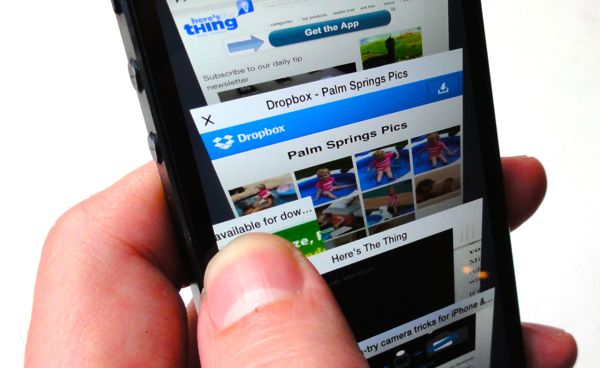 Sure, you can close your browser tabs on an iPhone in iOS 7 by tapping the tiny little "x" in the corner of the tab, but there's actually an easier—and more fun—way.
Oh, and did you know you can reorder the Safari tabs on your iPhone, just like you can on an iPad?
Here's how…
Swipe to close a tab
So, want another (and niftier) way to close a browser tab in Safari on your iPhone?
Try this: From Safari's "Tabs" view (tap the two small, stacked squares in the bottom-right corner of the screen), just tap and hold a tab, then swipe it from right to left.
When you do, it'll fly off the screen, closing the tab in the process.
Reorder your tabs
Want to juggle your tabs rather than delete them?
Again, tap and hold a tab in the "Tabs" view, then move it up or down.
As you do, existing tabs will obediently slide above or beneath the tab you're moving.
Bonus tip: Swipe to go back
Rather not tap the tiny "Back" button to go back a page in Safari? Try this: Swipe the page from left to right, starting from the outer edge of the screen.
The page you were just viewing will slide off the screen, revealing the previous page beneath.
Hint: You can go forward a page by swiping from right to left, starting (again) from the outer edge of the screen.