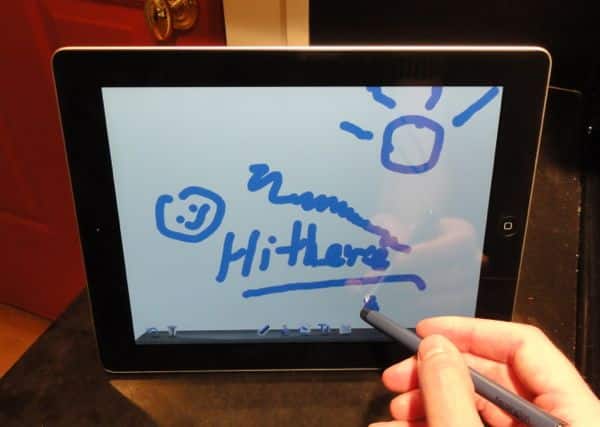 Former Apple boss Steve Jobs famously dismissed the idea of using a stylus with a touchscreen as he unveiled the very first iPhone, but that doesn't mean there's a rule against using a stylus with your iPhone, iPad, or Android device.
Press reps from Kensignton gave me a sample of the company's Virtuoso stylus ($15) to test, and I have to say, I'm impressed.
Armed with a soft, plastic tip designed to work with capacitive-style touchscreens (which respond to to tiny changes in the electrical charge on the surface of the screen, rather than pressure from your fingertip), the Virtuoso worked perfectly with my iPad.
I was able to tap, swipe, and even draw with a few light flicks of the pen—pretty nice, especially for tablet users who don't have full use of their fingers, or when you want to tap on your phone while wearing thick winter gloves.
The Virtuoso isn't the only touchscreen stylus on the market, of course. Different makes and models are available from a variety of manufacturers, including Ten One Design (maker of the first iPhone stylus, the Pogo Stylus) and Wacom (which sells the $29 Bamboo stylus). There's even a kitchen-safe stylus and iPad stand that you can use while you're cooking.
And just to be clear, you can use one of these specially designed styluses (styli?) with the iPhone, iPad, iPod Touch, or any number of Android smartphones or tablets.
Note: Kensington gave me its Virtuoso stylus for review purposes, but I'll be returning it once I'm done testing.