Maria writes: Ben, love your site! I have a question. How do you color-code events in iOS 7.1 Calendar on my iPhone? You had mentioned you can color-code events but there weren't any links for additional information.
Hi Maria! Great question, and sorry for not going into more detail in the other day's article.
Anyway, yes—you can color-code your Calendar events directly from your iPhone or iPad, and it's easy to do.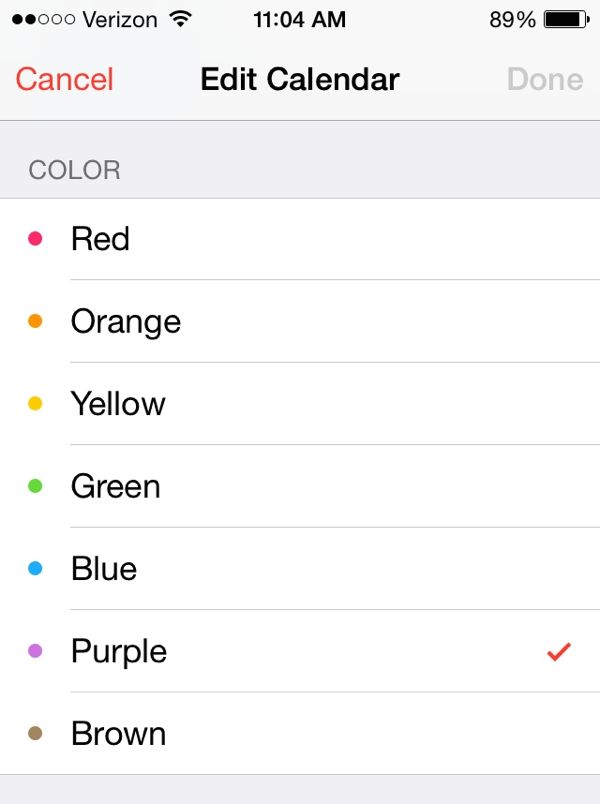 Just to be clear, what we'll be doing is color-coding the individual calendars in the iOS Calendar app—that is, the Home, Work, Birthday, and various other calendars you've set up.
Once you color-code a calendar, all the events for that calendar will show up in the corresponding color.
Here's the trick…
Launch the Calendar app, go to any of the various views (Day, Month, List), then tap the Calendars button at the bottom of the screen.
Next, you'll see a list of all the calendars on your on your iPhone or iPad. See the little "i" buttons to the right of each calendar? Tap one of them to visit the Edit Calendar screen.
Scroll down to the Color section, and pick a new color.
All set? Tap the Done button.
Now, is your Calendar app synced up with your Mac via iCloud? If so, keep in mind that changing a calendar color on your iPhone or iPad will change it on your Mac, too.
Also, one more thing: While you can color-code calendars from iCloud or Yahoo, there doesn't seem to be a way to manually color-code a synced Google calendar. Don't ask me why.
Bonus tip
Want to add a calendar—or delete one, for that matter?
Tap the Calendars button at the bottom of the screen, tap Edit in the top-left corner on the following screen, scroll down and tap Add Calendar.
To delete a calendar (and all its events—careful!), tap the Calendars button again, tap "i" next to the calendar you want to zap, scroll all the way down and tap the Delete Calendar button.