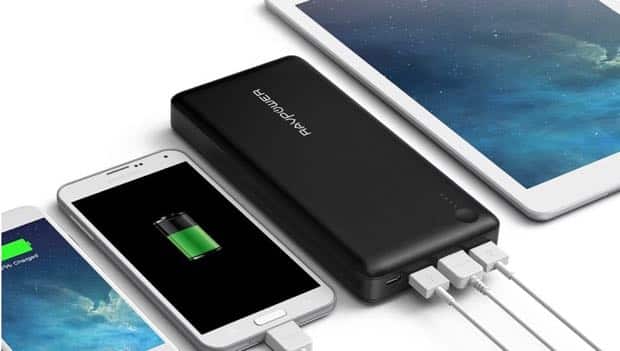 Whether your iPhone needs a quick midday charge or you need iPad power during a long-haul flight, these portable batteries will keep your iOS and Android gadgets going even when there's no power outlet in sight.
Portable USB battery chargers come in all shapes and sizes; indeed, the smallest ones can fit in a pocket, while the bigger variety can be heftier than a hardback copy of War and Peace.
As you can probably guess, the smaller the battery, the less juice it'll hold. A lipstick-sized portable battery won't be powerful enough to revive a tablet, but it can generally charge a standard-size iPhone, or give a partial charge to a jumbo iPhone 7 Plus or Samsung Galaxy S7.
The biggest portable chargers, on the other hand, are often capable of charging a power-hungry iPad multiple times, or they might even be able to charge both a phone and a tablet at once.
Read on for some recent portable battery deals for every budget, starting with…
Jackery Mini Premium 3350mAh portable charger
Price: $11 on Amazon (63% off)
About the size of a lipstick, the Jackery Mini Premium is a perfect everyday companion for your pocket, purse or knapsack. It won't do you much good with an iPad, but this pint-sized, 2.7-ounce Jackery charger will fully charge a dead iPhone or Android phone—and at just $11, it's one of the best portable battery bargains around.
Check out the Jackery Mini Premium on Amazon!
---
Anker PowerCore Slim 5000 Portable Charger
Price: $19 on Amazon (62% off)
While it's bigger than the mini Jackery charger, the Anker PowerCore Slim 5000 is still relatively slim and trim, and it's got enough juice to charge an iPhone 6S twice, or give a full single charge to an iPhone 6S Plus or a Galaxy S7.
Check out the Anker PowerCore Slim 5000 on Amazon!
---
GreatShield PowerTank 10000mAh portable battery pack
Price: $20 on Amazon
As its name implies, the PowerTank isn't the smallest or lightest portable battery on the block—indeed, it's nearly an inch thick and it weighs in at more than half a pound. But the PowerTank can also fully charge a dead iPad, and thanks to its dual USB charging ports, it can charge two mobile devices at once.
Check out the GreatShield PowerTank on Amazon!
---
RavPower Xtreme 26800mAh portable battery pack
Price: $50 on Amazon (38% off)
Flying from New York to Tokyo with no power outlet near your seat? Pack this bad boy in your carry-on. Yes, it weighs a full pound, but the RavPower Xtreme can charge a standard iPhone up to 10 times, and it packs in enough juice for a couple of iPad Air charges. With its three USB charging ports, you can even share the Xtreme with everyone in your row.
Check out the RavPower Extreme on Amazon!
If you buy something through our Deals posts, we may earn some money. Thanks for the support!