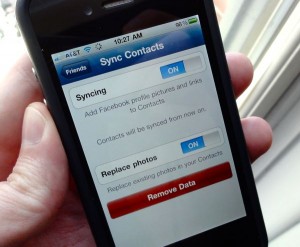 Yep, it's another Facebook privacy controversy, this time centering on Facebook's phonebook application—which, as many startled Facebook users have discovered in recent days, is capable of storing all the numbers in your phone.
Say what?
The warning, which has been bouncing around Facebook for more than a year but began spreading like wildfire in recent days, goes something like this:
More FB abuse of privacy. ALL THE PHONE NUMBERS IN YOUR PHONE are now on Facebook! Click on ACCOUNT, click on EDIT FRIENDS, left side of screen and click CONTACTS. you will see all phone numbers from your phone (FB friends or not) are published that you have stored in your mobile phone. TO REMOVE, go to RIGHT column, click on "this page." please repost this on your status, so your friends can remove their numbers and thus prevent abuse if they do not want them published.
And yes, it's true—if you ever synced your phone's address book with your Facebook account, that is. (The iPhone Facebook app, for example, has an option for contact syncing, as do recent Android phones.)
Can the entire world now see the phone numbers of everyone you know? No, Facebook promised in a status update Wednesday:
Rumors claiming that your phone contacts are visible to everyone on Facebook are false. Our Contacts list, formerly called Phonebook, has existed for a long time. The phone numbers listed there were either added by your friends themselves and made visible to you, or you have previously synced your phone contacts with Facebook. Just like on your phone, only you can see these numbers.
So, why does Facebook want to store all your phone numbers in the first place—after all, isn't that what your phone's contact book is for?
Well, Facebook claims that syncing your numbers helps it to "improve the quality of your friend suggestions," and that zapping those numbers means future friend suggestions will be "less relevant."
Maybe so, but perhaps you want to clear all the numbers off your Facebook phonebook anyway. How do you do it?
First, you need to turn Facebook syncing off on your phone. On the iPhone, for example, fire up the Facebook application, select Friends, tap the arrow button in the upper-right corner of the screen, tap Sync Contacts, then switch the Syncing setting to "off."
After that, just follow the instructions from the warning above: Click the "this page" link in the right-hand column of the Contacts page and click the Remove button.
Last but not least, check to see whether your mobile number is public on Facebook. Click the "Customize settings" link on the main "Privacy Settings" page, scroll to the bottom of page to "Contact Information," then tweak the various privacy settings—and pay special attention to the "Address" and and phone number options.
Looking for more Facebook privacy tips? Learn 6 ways to lock down your Facebook account.