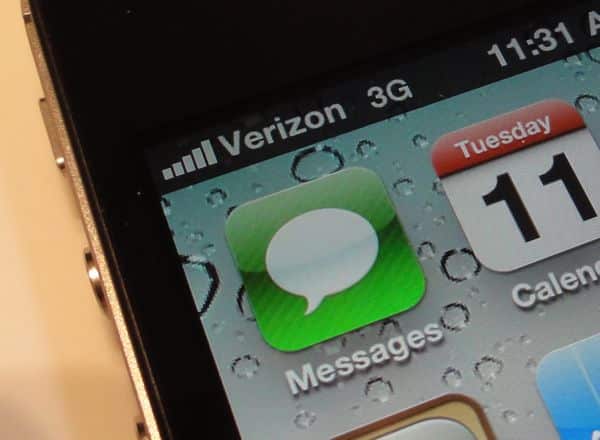 Adam writes: Does it matter whether you order the iPhone 4S through your carrier (e.g. Verizon) or directly through the Apple website? And by "matter," I mean which option will get you the phone the fastest. I assume the Verizon site will have less traffic. I know in the past I have had trouble with Apple's servers being overloaded. Just curious if you knew anyone that has done both and what their experience was. Thanks.
Hi Adam! Excellent question—and unfortunately, I'd need a crystal ball to give you a definitive answer.
The official story is that there's no difference whether you pre-order (starting Friday at 12 a.m. PT) your iPhone 4S through Apple's online store or over the AT&T, Sprint, or Verizon Wireless websites.
AT&T also says it will take pre-orders through a special iPhone app, although the promised app has yet to appear on the App Store.
Each of the respective sites will step you through the various iPhone options (16GB, 32GB, or 64GB, black or white), help you choice a monthly plan, check your credit, determine your eligibility for carrier-subsidized discount, and take your money—and yes, you can port your current number to a new carrier, even if you order through Apple.
And if place your order early enough, either through Apple or a carrier, your new iPhone should arrive on your doorstep on October 14, the same day it goes on sale in stores.
That's how it's supposed to work, anyway. The "X" factor is how the various servers hold up under the crush of eager customers who are sure to descend on the Apple, AT&T, Sprint, and Verizon websites in the wee hours Friday.
When the pre-orders for the iPhone 4 first began in June 2010, AT&T's servers crumbled under the onslaught of traffic—but so did Apple's, as it turned out. Indeed, I was one of many unhappy customers who tried and failed to place a pre-order through the online Apple Store, and by the time I tried AT&T's website, it was too late. (Ultimately, I managed to snag an in-store reservation for launch day, which meant standing for hours in a gigantic line.)
Now, you'd think that Apple and the carriers would have their acts together this time around … and hey, maybe they do. But we won't know for sure until the clock strikes 12 a.m. on the West Coast—and based on the number of live blogs that were overwhelmed by hoards of online visitors during Apple's iPhone event earlier this week, it's looking like interest in the iPhone 4S is at least as strong as it was for the iPhone 4 last year.
Will Apple's servers get more traffic than the carrier sites? Probably, yes; then again, Apple.com might be better prepared for the tidal wave of visitors than the smaller carrier sites are. Maybe.
So, Adam, I'm sorry—it's basically a crapshoot. I wish I had a better answer for you. If you're looking for more opinions, I suggest checking the message boards at MacRumors, where hundreds of iPhone fans are puzzling over the same issue.
And hey, maybe we can lean on our readers for help, too. Anyone have advice or experience to share when it comes to pre-ordering an iPhone? Sound off below!
Update (10/7/11, 8:35 a.m. ET): Well, the iPhone pre-order rush began early in the A.M., and there have already been reports of server outages, with Fortune noting that Apple and AT&T appear to be taking the brunt of the damage. Sprint's site has also been "slow," according to Technologizer, while Verizon Wireless' site has (so far, anyway) emerged relatively unscathed.
It's also worth noting that as of Friday morning, Apple's site is still promising a delivery date of October 14 for the iPhone 4S—meaning that if you pre-order now, you'll get your iPhone on launch day. Don't be surprised if the ship date starts to slip as the day wears on, though. (Just to be clear, any changes in the ship date should only apply to new pre-orders, not ones that have already been placed.)
Got any pre-order war stories to share?