Terry writes: Is there any way to keep Facebook from suggesting me to others as a "Person You May Know"? I'm getting all kinds of random requests from people I barely know and I want it to stop.
Hi Terry! So here's the deal: you can't completely stop Facebook from putting your name out there as a possible friend (no surprise there), but at least you can limit who gets to see the suggestions.
As usual, you'll find the key setting on the Privacy Settings page: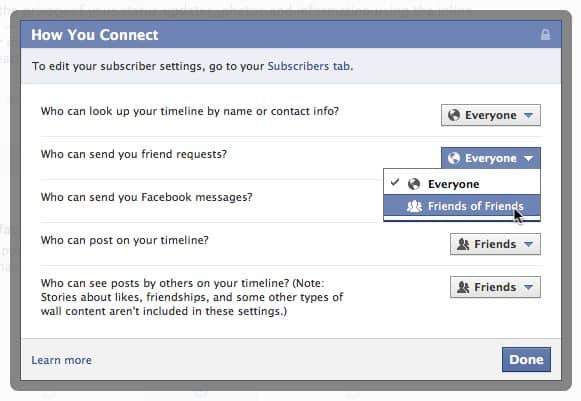 Go to Facebook, click the little downward arrow in the top-right corner of the page, and select Privacy Settings.
Next, find the How You Connect section and click the Edit Settings link.
In the window that appears, click the pull-down menu next to "Who can send you friend requests?" and—if you haven't already—select "Friends of friends" rather than "Everyone."
Clink Done.
Now, make no mistake: a lot of people are still going to see your name and photo as a suggested friend, particularly if you've got a wide circle of Facebook pals.
That said, you won't be suggested as a possible Facebook friend to total strangers anymore.
Have another Facebook question, or a tip to share? Let us know in the comments below.