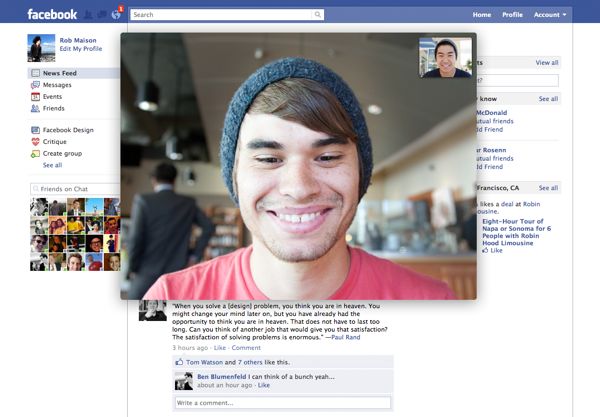 It'll take a few weeks before all of Facebook's 750 million-plus users get Skype-powered video chat installed on their accounts, but if you're feeling impatient, relax—there's a shortcut. Also: Learn how to disable Facebook video chat if you're not feeling particularly … well, chatty.
Announced Wednesday morning at Facebook's headquarters in Palo Alto, Skype video chat through Facebook will work after a "small and easy" software download for your browser. To get started, visit this page to enable Facebook video calling on your account.
Once you've clicked the green "Get Started" button, a column of available Facebook friends will appear; just click a name, then click the little video camera icon to place a video call. You can also make a call by visiting a friend's Facebook profile and clicking the "Call" button in the upper-right corner of the screen.
The first time you try placing a video call, you'll be prompted to download and install a small plug-in for your browser. The process should take less than 30 seconds, according to Facebook engineers, and it should all happen within your browser—no need to go hunting around on your hard drive for a setup file.
The plug-in "works best" with the most recent versions of Internet Explorer, Safari, Firefox, and Google Chrome, Facebook says. Both Windows and Mac systems are supported; Linux computers are not, however.
So, hold on a minute—will your Facebook friends be able to turn on your system's webcam without your permission and start chatting away?
Not so, Facebook promises. Instead, you'll see a pop-up window appear in your browser whenever a Facebook pal wants to video chat. To accept the call, you click the "Accept" button—and only then will your webcam (assuming you have one installed, of course) turn on. Done chatting? Close the video chat window, and your video camera will turn back off.
Facebook has posted a detailed Q&A about video calling in its Help Center, but among the most salient points:
Only "confirmed" Facebook friends can call you;
No, video chats aren't recorded, although the date and time of your video chats are logged in your Facebook Messages history for a given friend;
You can temporarily disable video calling by clicking the "Chat" module in the bottom-right corner of any Facebook page; once the column of available friends appears, click the Options tab at the top, then select "Go offline." Once you're feeling more sociable, click the Chat module again.
Even if you don't have a webcam, you can still have an audio-only chat with a Facebook friend using your computer's microphone and speakers.
Have more questions about Facebook video calling? Let me know!