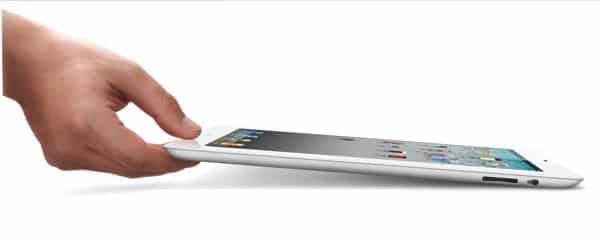 Chatter of a new iPad this year just won't go away, and now they're saying it'll be called the iPad "HD"—or the iPad 2 "Plus," take your pick.
So, is the latest iPad buzz to be believed?
Background:
As I wrote in June after the last round of iPad rumors, the initial whispers about a second iPad for 2011 began back in February—well before the current iPad 2 was even announced.
At the time, most of the talk was about a new iPad with a higher-resolution display than the iPad 2's screen (which, to the disappointment of many, turned out to have the same resolution as the original iPad), although there were also whispers of a smaller iPad in the pipeline (which later appeared to be debunked by Steve Jobs himself).
Then in June, Reuters stoking the fire with word of an "iPad3" with a screen "5-6 times" sharper than the iPad 2, with the new tablet to arrive before the year is out.
The latest chatter:
An industry analyst turned heads on Wednesday (via MacRumors) by suggesting that yes, a new iPad with a higher-resultion display is coming in "late 2011," and he even offered up a name: the iPad 2 "Plus."
By Thursday afternoon, This Is My Next dropped a bomb of its own, claiming (via the word of various unnamed sources) that the supposed new iPad will be called the iPad "HD," and that it'll be "aimed at a higher-end market" such as professional photographers and video editors.
In other words, the emerging consensus among Apple watchers (or at least those who believe a new iPad will land in 2011) is that the iPad "Plus" or "HD" will be more of a "pro" version of the iPad 2 than a full-on iPad 3.
The (precious few) facts:
Pretty much unchanged from last time. Apple still hasn't made any hint of its upcoming iPad plans, and it's worth mentioning again that when the iPad 2 was revealed back in March, Jobs called 2011 the "year of the iPad 2."
That said, if the rumored iPad 2 "HD" or "Plus" turns out to be a member of the iPad 2 "family," perhaps a new iPad model this year would still make sense given Steve Jobs' earlier proclamation.
here's the thing:
Like I said before, I'm still having a hard time believing that Apple would announce two iPad models in the same year.
And if Apple were to go ahead and release an iPad "HD" with an improved display in September, it would either a) irk everyone who bought an iPad 2 just a few months ago, assuming it arrives with the same $499-and-up price tag, or b) land with a higher, "pro"-level stick price, which would run counter to Apple's strategy of keeping iPad prices reasonably low.
To me, it seems far more likely that we won't see a new iPad until the (presumed) iPad 3—complete with the iPad's first "retina"-style display—next March or April.
Then again, I'm not the one with the top-secret sources here, so hey—you never know, particularly when it comes to Apple.
So, what do you think: Will Apple surprise us all with an iPad 2 "HD" this fall?
Sources: MacRumors, This Is My Next