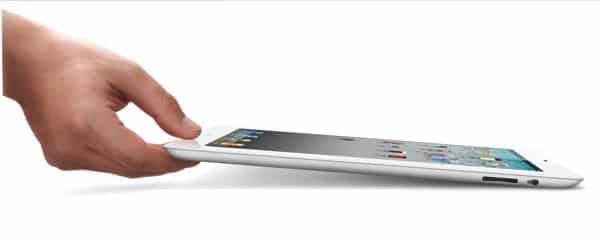 Now, hold on just a minute … didn't we just get the iPad 2 just a few months ago? Well, yes, but that hasn't stopped rumormongers from whispering that the iPad 3—complete with a sharper "retina" display—could arrive as early as this fall.
Background:
The "iPad 3 in 2011" rumors began as early as February, nearly a month before the recent iPad 2 was even announced. Most of the buzz had it that the iPad 3 would arrive with a higher-resolution screen than the current iPad, with TechCrunch claiming it had heard whispers of "slightly smaller" iPad waiting in the wings.
The latest chatter:
Reuters recently passed along a story from Taiwan's Economic Daily newspaper, which has it that the "iPad3" is "scheduled" for the fourth quarter of the year—this year, apparently—complete with a display that's "5-6 times" sharper than that of the iPad 2.
The facts:
During the big iPad 2 press event back in March, Apple's Steve Jobs made a point of calling 2011 the "year of the iPad 2"—not the iPad 2 and a new iPad to be named later.
Also, Steve Jobs pretty much scotched rumors of a smaller iPad late last year, telling investors during a conference call that the iPad's 9.7-inch display is "the minimum required to create great tablet apps." Tablets with smaller 7-inch screens like the Samsung Galaxy Tab and the HTC Flyer, meanwhile, are "DOA, dead on arrival," Jobs insisted.
here's the thing:
The steady drumbeat of an iPad 3 in 2011 refuses to go away, but personally, I wouldn't count on a new iPad until about March or April of next year. And while it's a safe bet that the iPad 3 will boast a sharper, "retina"-style display (similar to the eye-popping screen on the iPhone 4), expect the revamped iPad to have the same size display as the iPad 2; in other words, no iPad "Nano."
What about you: Do you think we'll get an iPad 3 before the year is out? Like the idea of a smaller, seven-inch iPad?