Say goodbye to the old, clunky white MacBook, which used to be the cheapest Apple laptop you could get. As of today, Apple's lowest-end, $999 MacBook also happens to be its sexiest: the svelte, 2.38-pound Air.
On sale now, the revamped 11-inch, 0.68-inch-thick MacBook Air boasts a faster processor (the 1.6GHz, dual-core Intel Core i5, if you want to get specific about it), 64 GB of "flash" memory (meaning no more spinning hard drive, thus fewer moving parts that might seize up), a front-facing camera for video chat, stereo speakers, a pair of USB ports, and a backlit keyboard for typing in the dark (a notable improvement over last year's MacBook Airs, which lacked backlighting for their keypads).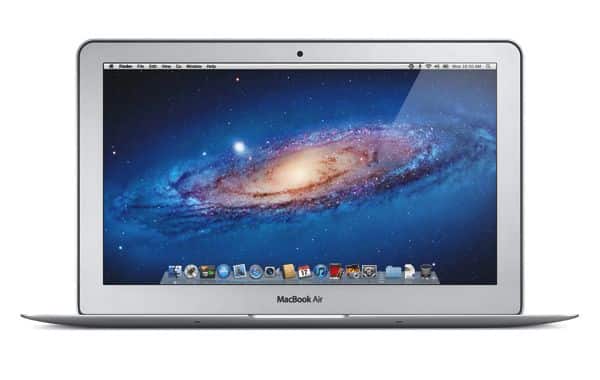 Those looking to up the ante with the slightly larger, 13-inch MacBook Air ($1,299, and a hair under three pounds) will get double the storage (128 GB) and an even speedier processor than the one on the $999 Air (1.7GHz Intel Core i5). You can also upgrade to a full 256 GB of flash memory if you opt for the $1,599 version of the 13-inch MacBook Air. (Check out Apple's online store for more upgrade options.)
(Related: How big is a GB, anyway?)
Overall, the new Airs are up to twice as fast as last year's models, Apple boasts, and they also pack in better battery life: five hours for the 11-inch Air, and seven hours for the new and improved 13-inch version, according to Apple.
Of course, the best feature of Apple's MacBook Air line is the size—or lack thereof.
I haven't tested the brand-new MacBook Air yet, but I have lived with an older-model 13-inch Air that's just shy of three pounds, and I can tell you that the difference in weight is amazing. When I'm at trade shows, I can slip my Air into my backpack and not even feel it, while my back was definitely feeling it when I was still lugging around a five-pound MacBook.
Speaking of which, Apple has gone ahead and dumped its white, five-pound MacBook—the last Apple laptop with a plastic shell.
I'm sure there are some who will miss the MacBook's friendly white casing, but I'm guessing any feelings of nostalgia you might have will melt away the moment you hold the feather-weight MacBook Air in your hands.
Check out more details about the new MacBook Air line right here.