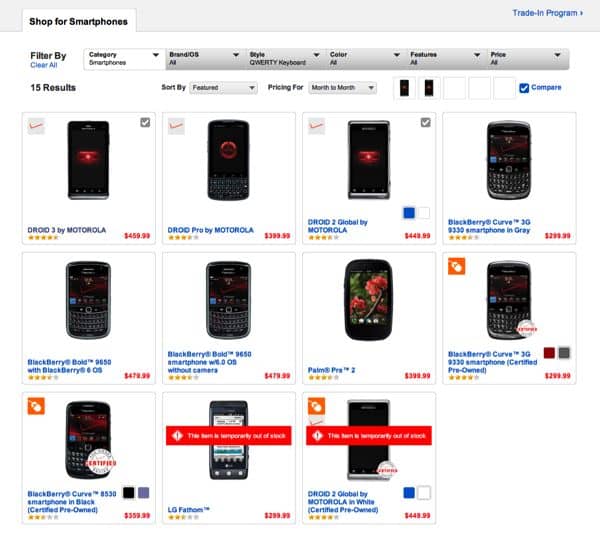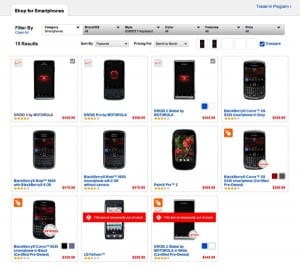 Ted writes: My T-Mobile Dash is on its last legs and it's time for a new phone. Because T-Mobile is still likely to get swallowed by the cretins at AT&T I will probably just make the move to Verizon at the same time.
So, I am wondering … can I buy a Verizon-ready phone at full price and avoid contract? Also, which phones have real keyboards (it's primarily an email device for me, and I don't find glass keyboards very usable) and good quality?
Hi Ted! Yes, you absolutely can buy a smartphone through Verizon Wireless without a contract—but steel yourself first, because they're not cheap.
Verizon has been offering phones on a no-contract basis for quite some time now; indeed, while shopping for phones on its website, you'll find a pull-down menu that lets you choose between two-year contract pricing and month-to-month.
No contract? No discount
Make the switch to month-to-month pricing, though, and you'll see the phone prices jump dramatically.
Why? Because the big wireless carriers offer steep discounts on their phones to entice you into signing a two-year contract. No contract, no discount.
How much more expensive are we talking, here? Well, take the aging BlackBerry Curve 8530, which Verizon offers for a mere penny with a two-year contact. If you go the month-to-month way, though, the price spikes to a whopping $359.99. Yikes.
Hope that answers the first part of your question. Now, for part two: a good smartphone with a full QWERTY keypad rather than a virtual, on-screen keyboard.
We can eliminate the non-QWERTY iPhone right away, along with several other touchscreen-only Android and Windows Phone handsets.
On Verizon, that leaves us with a few BlackBerrys ($299 and up), the Palm Pre 2 from Hewlett-Packard ($399), and three Android-powered Motorola Droid phones ($399 and up), each with slide-out QWERTY keypads.
(Quick tip: The Verizon website offers a set of handy filters that lets you narrow down your choices while shopping—and yes, filtering for phones with physical QWERTY keyboards is one of the options.)
"Candybar" QWERTY, or slide-out keypad?
So, here's my question to you: Would you prefer a "candybar"-style smartphone—that is, one with the keypad exposed, sitting flat and just below the display? Or would you be willing to try a phone with a slide-out QWERTY keypad, which typically makes for a larger screen but a bulkier, heavier handset?
Your old phone, the T-Mobile Dash, is a candybar-style phone, so if you want something similar, you might want to consider a BlackBerry (the Bold 9650 is the most recent, and it boasts the latest version of the BlackBerry operating system—or it will until a newer one arrives later this year, anyway) or the Motorola Droid Pro, a business-minded smartphone with a BlackBerry-like keyboard and a solid, if not razor-sharp display.
If you're willing to go for a slider, check out the Droid 3 (which I'll be reviewing very shortly, so stay tuned). It came out just a week ago, with a faster processor and a sharper camera than the older Droid 2, and at $459 (I know, ouch) it's just $10 more than its predecessor.
The Droid 3 is also a "world" phone, meaning it's compatible with both of the major global cellular networks—CDMA in the U.S. and Asia, and GSM in Europe and other territories.
There's also the Palm Pre 2, a capable touchscreen phone with a slide-out keypad and the gorgeous WebOS system software—which, if you ask me, rivals the iPhone when it comes to easy-of-use. That said, there are only a few thousand apps available for WebOS, versus more than 350,000 for Android (the operating system that powers the Droid 3).
Hope this helps, Ted—and if you have more questions, just give me a holler.