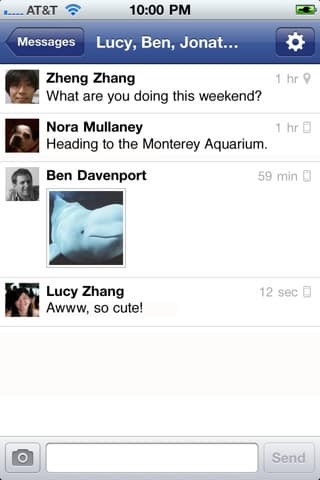 Sure, you can already chat with groups of pals using Facebook's existing iPhone and Android apps, but the new stand-alone Messenger application lets you share photos and even your location with your online Facebook buddies, perfect for coordinating on-the-go meetups.
Available now for iPhone and Android users, the free Messenger app looks an awful lot like the chat interface in the standard Facebook mobile application—at first glance, anyway.
Take a closer look and you'll see a camera icon in the chat interface, good for snapping photos on your phone and zapping them to everyone in your group chat.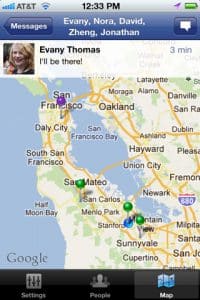 The Messenger app also gives you the option of sharing your location, as well as pinpointing the location of anyone in the chat who's also sharing their whereabouts. (And yes: you can turn off location sharing if you wish, either for a specific conversation or altogether.)
Facebook promises essentially real-time chat through Messenger, even with non-Facebook friends (who will get updates on the conversation over SMS). You'll also be able to start a Facebook group chat on your desktop, continue it over Messenger, then finish it off back in a web browser.
I also like the fact that you can suspend chat alerts from Messenger for an hour or the rest of the day—again, either per conversation or for everyone on your Friends list.
Facebook Messenger is available now in the Apple App Store and Google's Android Market.