Don't have a Kindle? No problem. As of today, you can dive into a Kindle e-book directly over the web—or on your iPad, no application needed.
Amazon announced its Kindle "Cloud Reader" months ago but only launched it early Wednesday, and it's a thing of beauty: sleek, fast, easy on the eyes, and available to anyone with Apple's Safari or Google's Chrome web browser.
The new Cloud Reader also works on the iPad, complete with the ability to display books even without an Internet connection.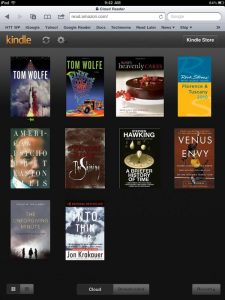 Also new for the iPad: a gorgeous, touch-friendly Kindle Store for buying new Kindle volumes directly on the tablet—again, all on the web, no app required. (You'll still need an app to read Kindle books on the iPhone or an Android phone.)
You can try the new Cloud Reader by visiting read.amazon.com on the web; you'll have to sign in with your Amazon username and password, of course. On the iPad, you'll also have to confirm a setting that lets the browser save your books for offline reading.
As for the reader itself, well … it's pretty nice.
On the desktop versions of Chrome and Safari, the text is smooth and readable, just like on a printed page, and you get the choice of five font and margin sizes, along with white, sepia, and black backgrounds. The iPad also lets you change font sizes and background colors but won't let you tinker with the margins, unfortunately.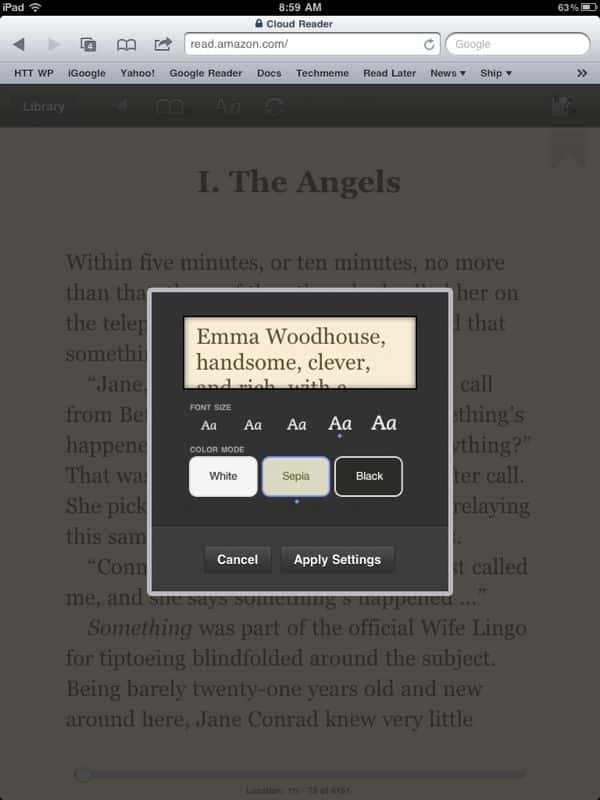 Both the web and iPad readers let you add bookmarks, which are synced (along with the last page you were reading) to any and all of your Kindle devices. That means you can start reading on an actual Kindle, pick up where you left off in your web browser, then finish up later back on your physical Kindle reader—all without skipping a beat.
Of course, Amazon isn't the only company with its a web-based e-reader. Google has its own bookstore at books.google.com, and its on-the-web reader is nothing to sneeze at.
Google lets you view two facing pages at once, for example—which I personally happen to prefer while I'm reading. On the other hand, Google Books lacks the custom backgrounds available on Amazon's Cloud Reader.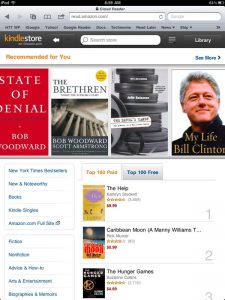 The arrival of the new Kindle Cloud Reader comes just a few weeks after Amazon was forced to remove the "Kindle Store" button from its iPhone and iPad apps, all due to Apple's restrictions on how so-called "in-app" purchases are handled.
Having seen the new, web-based Kindle Store for the iPad, though, I don't think any iPad users will be missing the old "Kindle Store" button.
So, take a look at the Kindle Cloud Reader and let me know what you think!