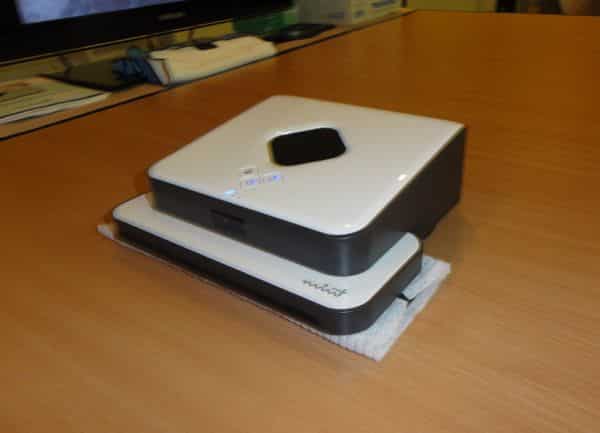 I had a great time testing the top-of-the-line Roomba 780 last month—after all, there's nothing like having a dust-busting robot scour your floor on a daily basis. But in the end, the effective but pricey Roomba turned out to be too big and bulky for my smallish Brooklyn apartment.
Enter the Mint Floor Cleaner and its new big brother, the Mint Plus, which I saw for the first time at a Manhattan trade show Wednesday night.
A good $100 cheaper than the most inexpensive Roomba model, the $199 Mint robot exchanges the Roomba's circular body for a square shape, all the better for tackling tough-to-reach corners.
[youtube=http://www.youtube.com/watch?v=_dVORwuW6zs&w=550]
And instead of vacuuming up dust and dirt, the Mint sweeps your hardwood floors with dry or wet microfiber cloths—so yes, we're basically talking a robotic Swiffer (and the Mint does, indeed, work with Swiffer refill cloths).
Like the Roomba, the self-guided Mint feels its way around your floor, scooting around obstacles and avoiding stairs with the help of a compact, cube-shaped module that sends out a wireless navigation signal. ("Indoor GPS" is how Mint manufacturer Evolution Robotics describes it.)
The Mint, which has been on the market for more than a year now, will sweep 800 square-feet of floor space for about three hours on a single charge.
And then there's the just-announced, $299 Mint Plus, which will go for four hours and cover up to 2,000 square feet, provided you've got two NorthStar navigation cubes handy. (An extra cube goes for $39.)
Pretty neat—although if you've got carpeted floors to clean, you're better off ponying up for a Roomba.
So, any Mint owners with experiences (good or bad, of course) they'd like to share?