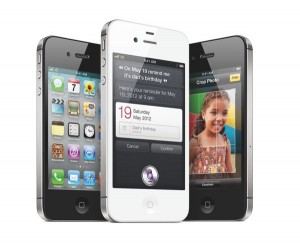 Apple began selling an "unlocked," contract-free version of the new iPhone 4S on Friday that will work with any GSM-based carrier, including AT&T or T-Mobile. But it won't be cheap.
The cheapest 16GB iPhone 4S costs a whopping $649, or a full $450 more than a carrier-locked version.
Meanwhile, the 32GB iPhone 4S goes for $749 (versus $299 with a two-year carrier contract), while the 64GB model sells for $849 (compared to $399 through a carrier). Ouch.
Now, Apple is billing the iPhone 4S as a "world phone" that works on worldwide GSM and CDMA networks.
But on its website, Apple specifies that the unlocked iPhone 4S will not work on CDMA carriers like Sprint or Verizon Wireless.
Related: Why the "unlocked" version of the iPhone 4S won't work on Sprint or Verizon
The restriction also applies to pre-paid carriers Boost Mobile and Virgin Mobile, which both operate on CDMA networks.
To hop from one carrier to another using the unlocked iPhone, you'll need a micro-SIM card: a little plastic module that identifies a phone on a given carrier's network.
You can typically request a micro-SIM card for a nominal fee (as in a few bucks or so) from the GSM carrier of your choice, although you'll need a data plan (either pre-paid or post-paid) to go with it.
While you can buy an iPhone 4S from a carrier for hundreds less than the unlocked version, you'll have to sign a two-year service contract to do so.
Also, the handset will be "locked" to the network of the carrier you bought it from, meaning you won't be able to swap micro-SIM cards to jump from one network to another.
Got questions about the unlocked iPhone—or about unlocked phones in general? Post 'em below.