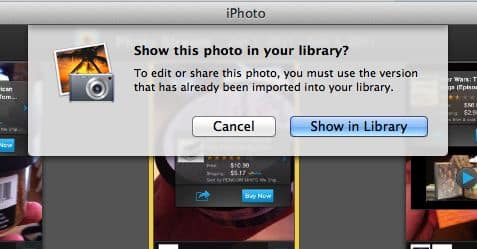 So, you've got the new Photo Stream feature in iCloud all set up and activated in iPhone on your Mac—except whenever you open Photo Stream and try to drag a photo into an album, nothing happens.
And if you try to edit or share a photo, you get a curt warning from iPhoto that "you must use the version that has already been imported into your library."
Ugh.
The problem, it seems, is that Apple considers Photo Stream to be the originals of your latest photos—and you're not supposed to mess with your originals, right? But while iPhoto automatically makes copies of your Photo Stream pictures and puts them in your photo library, getting to those copies is an annoying, multi-step process.
But here's the the thing: you can create a "Smart Album" in iPhoto with copies of all your Photo Stream images, which you can edit, share, drag, and delete to your heart's content. Here's how to do it.
Open iPhoto, click the File menu in the top-left corner of the screen, and select "New Smart Album."
In the window that slides down from the top of the iPhoto interface, type "Photo Stream" (or whatever you'd like to call your new album) in the "Smart Album name" field.
Next, in the "Match the following condition" section, click the drop down menu that reads "Album" and select "Any Text."
The second drop-down menu should read "contains"; if it does, just leave it—that's what we want.
In the last, blank field, type "Photo Stream," then click the OK button. Done!
Now, look in the left-hand column of iPhoto, under the Albums section; you should see a new "smart" album called Photo Stream. Click it, and you'll see all the images in your Photo Stream, past and present, and you can edit or share them in just a few clicks.
Have more Photo Stream questions? Let me know!