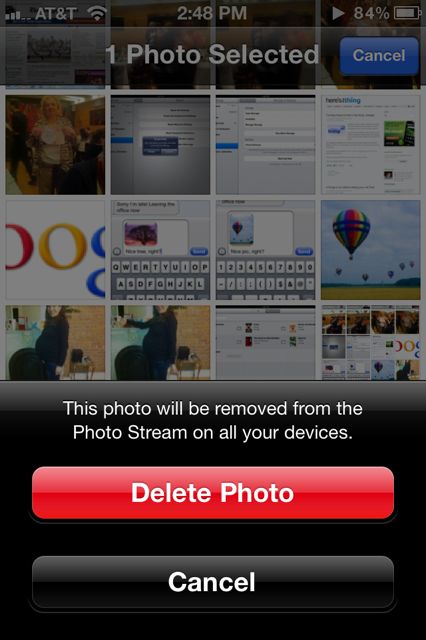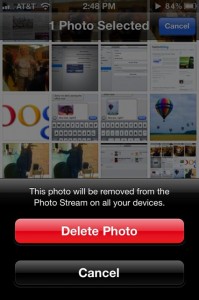 Thanks to the new version of Apple's mobile iOS software, you can at last delete individual photos from Photo Stream.
First, a little background. Photo Stream, a key feature of Apple's (relatively) new iCloud service, automatically syncs your latest snapshots between all your various iCloud-connected devices. Snap a picture on your iPhone, for example, and it'll pop up in the Photo Stream album on your iPad, your Mac, or any other device that you've connected to your iCloud account.
Pretty handy, right? But Photo Stream also could be a source of embarrassment for careless shutterbugs—especially those who happen to be sharing Photo Stream with family members. (Not that you have anything to hide, of course.)
Until now, anyway, there's been no easy way to delete a photo from Photo Stream, shy of resetting Photo Stream altogether and then running around and completely deactivating Photo Stream on all your iCloud-connected computers and handsets. (To do so, tap Settings, iCloud, Photo Stream, then hit the "off" switch; you can also temporarily turn off Photo Stream, if you're so inclined.)
That's changed—sort of, at least—thanks to iOS 5.1, the new version of the mobile software that powers the iPhone, iPad, and iPod Touch.
Updating your device(s) is a fairly straightforward process that shouldn't take you more than a half-hour or so; check out this related article for a brief how-to. You can also update the desktop version of iPhone for Mac by firing up the Mac App Store.
Once you've updated your iPhone, iPad or iPod, you can test-drive the tweaked Photo Stream feature by tapping the Photos icon from your iDevice's home screen; then, tap Photo Stream to see all your synced photos.
Now, see the small button in the top-right corner of the screen; the one with the arrow? Tap it, then select a photo. At the bottom of the screen, you'll see a new option: "delete." Tap the button, tap a secondary "Delete Photo" button to confirm, and poof—the photo's gone.
Well, almost. Any photos you take after updating your iPhone, iPad or iPod Touch to iOS 5.1 can indeed be deleted from all your iCloud-connected devices in one fell swoop. But pictures you took prior to the update will only be deleted from the device you're holding in your hand; the offending photo will still be sitting in the Photo Stream album of all your other iCloud-connected devices.
Update [3/14/12]: In the original version of this article, I wrote that the new "delete" feature in Photo Stream would only let you delete Photo Stream images on a specific device, not your other iCloud-connected devices. As it turns out, that's only the case for photos taken before updating your handset to iOS 5.1. I've corrected the article; my apologies or the goof. (Thanks, mr_lizard13!)