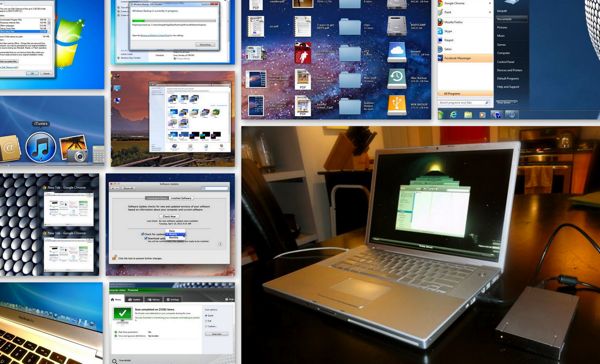 Is your PC running out of hard drive space? Has it been ages since you backed up your Mac? Ready to declutter your desktop? Get your system back under control with these 11 tips and how-tos.
Windows 7 boasts an easy-to-use utility that'll regularly backup your personal documents, media, settings, and other data. Read more…
Having a recent backup of your entire system will save you the heartache of a failed hard drive or a stolen computer—and the good news for Mac users is that Apple's own backup utility, called Time Machine, couldn't be easier to set up and use. Read more…
Want to shave a few seconds—or even minutes—off the time it takes for your Mac desktop to settle down after hitting the power button? Read more…
With just a few clicks, you can have virus protection up and running on your Windows system in about five minutes—and it won't cost you a dime. Read more…
You can expand, shrink, move, and otherwise tweak the Mac's handy desktop dock in just a few clicks, as well as rearrange, add, or zap any app, folder, or file icon. Read on for a half-dozen ways to make the Mac desktop dock your own. Read more…
A quick way to clear some hard drive space is to haul out the junk—that is, temporary files, old program setup files, cached thumbnails, and other bits of digital detritus that pile up over time. Read more…
Don't want the Windows taskbar at the bottom of your desktop? Wish it were smaller, or even gone? Read on for 5 ways to make the taskbar do what you want. Read more…
Got a jumble of icons cluttering your Mac's desktop? Are the icons themselves too big—or too small? Wish they would just arrange themselves? Here's six ways to whip your desktop icons into shape. Read more…
Frustrated whenever your favorite program slides off the Start menu? Wish you could make the Start menu icons a tiny bit smaller? And what about swapping the "Shut down" button with, say, "Restart"? Get ready for six of my favorite Start menu tweaks. Read more…
Your Mac will run better over time if you update its system software on a regular basis—think weekly rather than monthly (or yearly). Read more…
From changing your background theme to giving your mouse cursor a new look, check out five great ways to add some flair to your Windows desktop. Read more…
Click here for more Windows tips, or click here for help with your Mac.