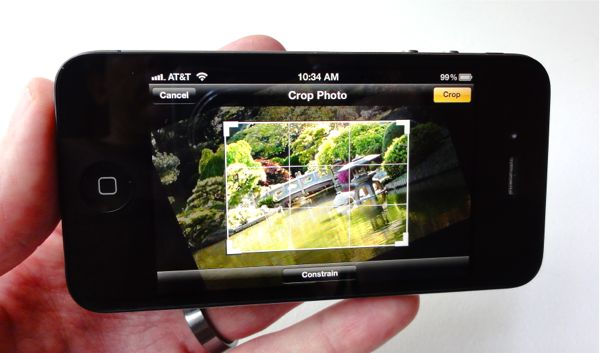 You just snapped the perfect family photo on your iPhone—well, almost perfect, save for that stranger lurking in the background.
Well, guess what? You don't need a PC to crop that interloper out of the image. Instead, you can crop and polish your snapshot right on your iPhone (or iPad, for that matter).
Here's how:
Tap the Photos icon on the home screen to access your photo albums; the most recent photos you shot will be sitting on the Camera Roll.
Tap a photo you want to edit, then tap the Edit button in the top-right corner of the screen.
You should now see four new icons at the bottom of the photo: a curved arrow, for rotating the image; a little magic wand, for "auto-enhancing" the colors and brightness; a red circle with a slash through it, for curing cases of red-eye; and a cropping tool for re-framing the image.
So, want to do a little cropping? Tap the crop icon, then drag the edges of the grid that appears; tap the Constrain button to set a specific aspect ratio (like 4 by 6) for the frame. You can also zoom in and turn the image any way you want by "pinching" the screen with your fingertips. All done? Tap the yellow Crop button, then tap Save.
Want to undo any of your changes, even after you've saved your edits? Just tap the Edit button again, tap (for instance) Crop, and drag the edges of the grid back to the original edges of the frame; you can also tap the auto-enhance or red-eye reduction icons to turn those effects off. Keep in mind, though, that you can only "undo" your edits while your photos are still on your iPhone.
Bonus tip

There are, of course, dozens of photo-editing apps with more advanced features (such as precise white-balance and color controls, photo filters, custom frames, "noise" reduction, and more) available in the App Store, including Apple's own iPhone app ($5), the wildly popular Instagram (free), Adobe Photoshop Express (free), and my personal favorite, Camera+ (99 cents).
Looking for more iPhone tips? Click here!