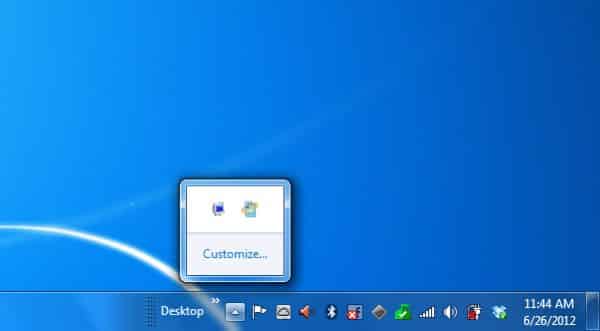 The more programs you install on your Windows PC, the more icons take residence in the bottom corner of the desktop—and after awhile, you'll end up with a little party down there.
Those tiny "notification" icons are there to help you keep tabs on your system, and some of them are pretty handy; take the battery meter, for example, or the bars that tell you how strong of a Wi-Fi signal you've got.
That said, other programs you install may also try to elbow their way into the notification area, cluttering up the Windows taskbar and flashing alerts ("hey, you've got another Facebook chat request!") that you might not really care about.
Luckily, there's an easy way to hide the notification icons you don't need while keeping the important ones front-and-center.
Here's how:
Scroll your mouse down to the bottom-right corner of your desktop, then look for the little upward-pointing arrow to the left of all your notification icons. Click the arrow, and select "Customize." Don't see the arrow? Then go to the Start menu, click Control Panel, then click the "Customize icons on the taskbar" link under the "Taskbar and Start Menu" section.
A window will appear with settings for most of the icons that sit in the notification area. Find an icon you don't want to see anymore? Click the appropriate pull-down menu and select a new setting: anything from "Show icon and notification," which means you'll always see the icon in the notification area, to "Hide icon and notifications." You can also choose "Only show notifications," which means the icon will only appear when there's an alert for you to see.
Want to get rid of the clock in the corner of the screen? If so, click the "Turn system icons on or off" link below the list of notifications icons, then switch the Clock setting to "Off." From here, you can also disable other system notification icons, such as volume, network status, and "Action Center" (which notifies you of critical Windows issues).
Last but not least, you can make every notification icon appear in the taskbar by clicking the "Always show all icons and notifications" checkbox.
Looking for more Windows tips? Click here!