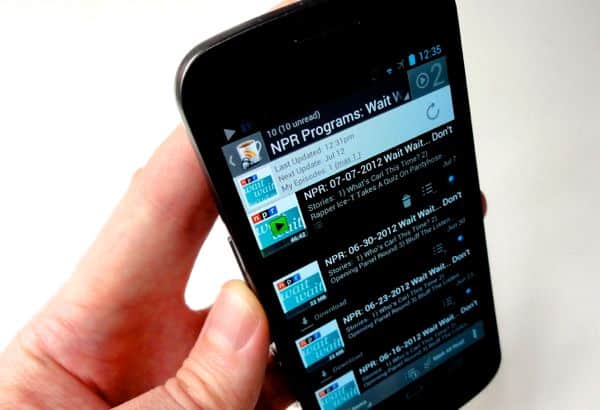 Hannah writes: I got to this page (about Google's Listen app for podcasts) when I searched for how to get "recent NPR" podcasts. Here's my issue: the first thing I did was search for "Wait wait" and all I see is something from a month ago or november 2010. I want my weekly up-to-date fix! How?
Hi Hannah! Yep, you're right. Since I first tested Listen for Android last summer, the app's ability to search for podcasts seems to have gone seriously downhill—and indeed, the app itself (which Google hasn't updated in nearly six months) is looking pretty long in the tooth.
In other words, it's probably time to say goodbye to Listen (sniff!) and go looking for a new podcast manager.
The good news, though, is that there are several top-notch podcast apps (or "podcatching" apps, as they're sometimes called) available in the Google Play app store.
Mashable has a recent rundown of five of its favorite podcast apps, including Pocket Casts ($2.99), Podkicker (free, or $3 for the "pro" version), and Stitcher Radio (free).
Another popular podcast app is DoggCatcher ($5), which earned raves from Lifehacker last year as the best Android podcast manager of them all.
So, what's my personal favorite "podcatcher" app for Android phones? Currently, it's BeyondPod ($7, or free for a limited trial version), an app that boasts a clean, easy-to-use interface, plus all the basics—that is, the ability to subscribe to podcasts, download new episodes (automatically, if you pony up for the paid version), manage how many episodes of each subscription to keep, and create playlists.
Best of all, BeyondPod's search functionality actually works—or at least, you'll get better results than on Google's all-but-abandoned Listen app. (One annoying quirk about searching with BeyondPod, though, is that you'll often have to include the word "podcast" in your searches to get the best results.)
OK, but what's the best Android podcast manager for you? My advice: test drive a few of the top contenders by downloading their free "trial" versions. Just because I'm a BeyondPod fan doesn't mean you won't prefer DoggCatcher or another competing podcast app.
Hope that helps, Hannah—and if you still have questions, let me know!
Note: In case you're wondering, no—I wasn't compensated by the makers of any of the podcast apps mentioned above, and I'm a paying customer of BeyondPod just like anyone else.