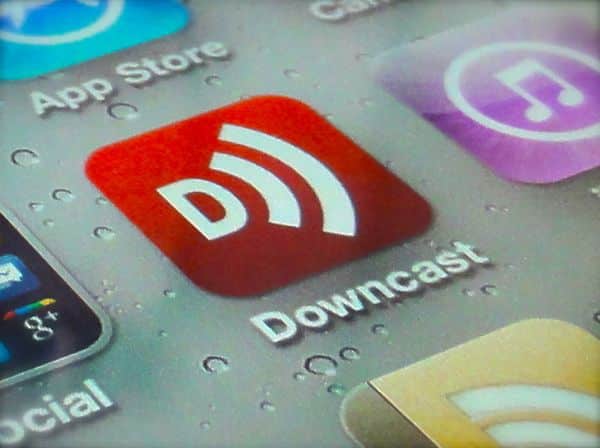 Here's my question about the iPhone's built-in podcast manager: why, oh why, won't it check your podcast subscriptions for new episodes and download them automatically, just like Google's stellar Podcasts app for Android phones can?
Sure, you can tap the "Get More Episodes" link, but that yanks you out of the iPhone's music app and sends you to the iTunes store, where you must then download new episodes one at a time. Lame.
Well, here's the thing: there's a hidden gem on the App Store that blows the iPhone's native podcast manager away. I'm such a fan, in fact, that I gave it a coveted spot on the first page of my iPhone's home screen. (Sorry, Calculator app.)
A "universal" app that also works on the iPad and iPod Touch, Downcast ($1.99) lets you browse, search for, and subscribe to podcasts from your iPhone.
Once you've got your podcasts all set up (and yes, you'll have to recreate any podcast collection that you might have on iTunes), just go to your list of subscriptions and tug it down with your fingertip; Downcast will then check for and download any and all new episodes, all in one shot. Finally.
And here's the part I really love: you can set Downcast to check your podcast subscriptions for new episodes automatically, anywhere from once a day to hourly, and even download them in the background. (You also have the option of downloading new episodes manually, or only when you're in range of a Wi-Fi network.)
Downcast will keep or delete your downloaded podcasts as you see fit (for example, you can keep them all, or just the most recent episodes), and you can also start listening to a podcast before it's completely downloaded.
Other features include playback buttons that let you skip forward or back a few seconds or minutes, the ability to create "smart" playlists of your latest podcast episodes (handy for drivers with long daily commutes), and a sleep timer.
Great stuff, and the developer is even promising iCloud support in an upcoming, good for syncing your podcast subscriptions across multiple devices.
I don't often say this about the iPhone apps I review, but … go get it.