Carolyn writes: I have noticed Groups in the contacts on my iPhone. It is populated with a couple of lists based on email contacts. I don't even have one of the addresses any more. Is there a way to make Groups more functional? Among other things, I'd like to be able to create my own Groups.
Hi Carolyn! So, yes; you've stumbled onto a feature in the iOS Contacts app that's both intriguing and infuriating.
For those of you who aren't that familiar with the Contacts app, you can access your contact "Groups" by tapping the Groups button that sits in the corner of the main Contacts screen.
Tap the button, and you should see a list of grouped iOS contacts that you can show or hide in the Contacts app, depending on whether a given group is selected.
So, what kinds of contact groups will you see on your iPhone or iPad? Most likely, you'll see an "All iCloud" group, and you may also have groups such as "All Facebook," "All Twitter," and "All Gmail," depending on which social and email accounts you're signed into via iOS.
Select a group, and the contacts in that group will appear in the Contacts app; uncheck a group, and its contacts will be hidden.
All well and good, but what if you want to create your own Groups? Well, you can't—or at least, not directly on your iPhone or iPad.
Instead, you have two options…
1. Use the Contacts app on your Mac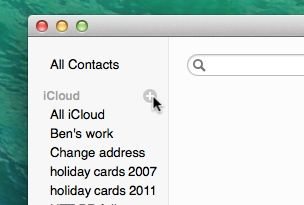 Are you using a Mac, and is your Mac signed into your iCloud account? If so, you can create and manage custom contact Groups using the Mac version of the Contacts app.
Just launch Contacts, hover your mouse over the "iCloud" heading in the left column of the Contacts window, then click the little "+" button that appears.
Type in a name for your new contact group, then start dragging contacts from the "All Contacts" group into your new group.
Now, launch Contacts in your iPhone or iPad, and your new contact group should appear on the Groups screen.
Tap the Hide All Contacts setting at the top of the Groups screen, then check only your new contact group. Tap the Done button, and you'll see only the contacts you've added to your new groups.
Note: The Mac version of Contacts lets you create "Smart Groups" that are created automatically using search terms and other criteria. Nice, but be aware Smart Groups won't sync with iCloud.
2. Use iCloud.com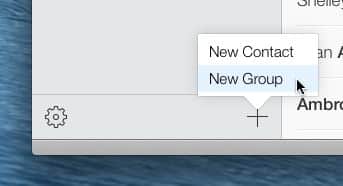 Don't have a Mac? Never fear. You can always create new contact groups by logging into iCloud.com on the web.
Visit iCloud.com, enter your login name and password, then click the Contacts icon.
In the left column and near the bottom-left corner of the screen, you'll see a little "+" button. Click it, then select New Group.
Name your new group, then start dragging in contacts from the All Contacts group.
Check your iPhone or iPad; your new groups should already be synched in the Contacts app.
Hope that helps, Carolyn. Still have questions? Let me know!
Bonus tip
There are plenty of third-party apps in the App Store that'll let you create contact groups directly on your iPhone or iPad, but the groups won't appear in the Contacts app; instead, they'll only appear in the third-party app you downloaded.