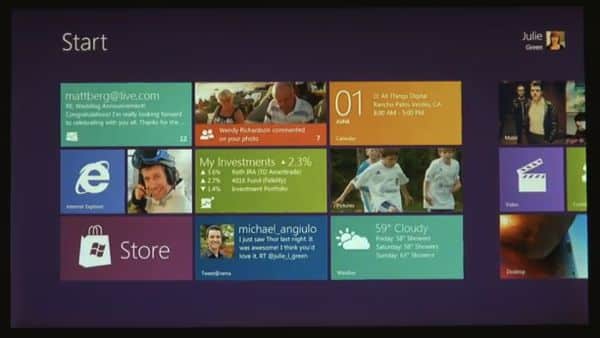 Rumor had it last week that Microsoft had a tablet version of Windows 8 up its sleeves, and it turns out that the buzz was half-right.
Yes, the upcoming Windows revamp will be right at home on a tablet, but rather than deliver a specific tablet-friendly version of the operating system, Microsoft has designed the core Windows 8 OS to work just as well on a tablet as it does on a desktop.
Oh, and by the way—the new Windows 8 Start Menu, now festooned with bright, multicolored "live tiles" and widgets, will look awfully familiar to anyone who owns a Windows Phone.
Microsoft gave its Windows 8 sneak peek at the All Things D conference on Wednesday, and you can check out a video that details the broad strokes of its development process embedded below (or right here).
Nope, there's no word on exactly when we can expect Windows 8 to land in stores. What we do know, however, is that it'll still run "classic" Windows desktop apps, along with new, touch- and tablet-friendly HTML5 and Javascript apps that will work in full-screen mode, very much like the Web apps you'd see running on an iPad or the Google Chrome web browser.
Both the new Windows 8 web-powered and "classic" apps will support touch and keyboard/mouse input, according to All Things Digitial's Ina Fried, while a Microsoft press release promises "fast launching" of apps from the new, tiled Start Menu (which includes a telltale "Store" tile, presumably for Windows apps), plus "fluid, natural" app switching.
Again, it all sounds quite familiar—and that's a good thing, if you ask me. We're in a "post-PC era," as Steve Jobs declared several months ago, and with the upcoming "Lion" version of the Mac OS taking plenty of cues from the iPhone, it's high time that Windows started taking some hints from its mobile brethren—specifically Windows Phone, which boasts a true, next-generation touch- and web-enabled design and functionality.
Unlike Windows Phone, though, which basically jettisoned everything from the old Windows Mobile platform and started from scratch, Windows 8 will apparently keep one foot in the old PC era by maintaining support for "classic" Windows desktop apps.
here's the thing: It'll be interesting to see whether that "classic" support keeps Windows rooted in the past—and whether Windows 8's new touch- and web-friendly design is a real step forward, or just a glossy coat of paint on yesterday's desktop OS.
[youtube=http://www.youtube.com/watch?v=p92QfWOw88I&w=500]