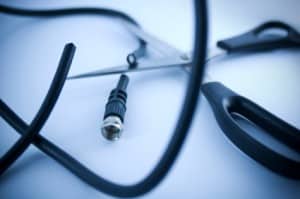 A full 32 percent of streaming Netflix users—almost one in three—are mulling downgrading their cable or satellite TV service or cutting the cord altogether, according to a recent survey. Are you one of them?
The new figures come courtesy of The Diffusion Group, which surveyed a random sample of adult broadband users to learn how many are thinking of dialing down or cancelling their pay TV subscriptions within the next six months.
Interestingly enough, only 16 percent of Netflix streamers polled in last year's TDG survey were thinking of dumping cable or satellite—meaning the urge to cut the cord among instant Netflix users has apparently doubled since last year.
One possible reason for the increased interest in cord cutting could be that the quality of movies and TV shows in Netflix's streaming collection, which (if you ask me) has undeniably surged in the past 12 months.
Then again, the urge to get rid of pay TV is still "primarily" due to "economic cord cutting," the TDG researchers note.
Thinking of cutting the cord yourself? Got questions about what's involved? Let me know.
Source: The Diffusion Group (via NewTeeVee)