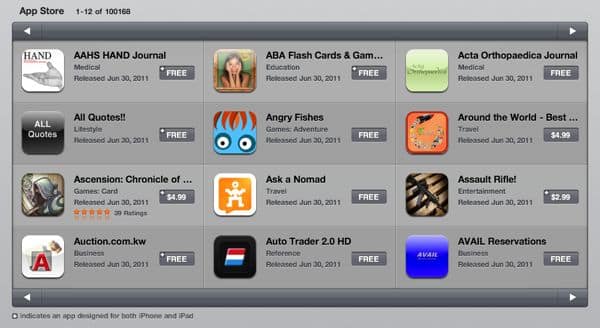 If you were looking for a reason to pick the iPad as your tablet of choice rather than, say, an Android-powered tablet or the new HP TouchPad, here's a number to consider: 100,000. That's the number of iPad apps currently available for download, as duly noted by MacStories—or 100,168, to be more precise (according to the latest count in the App Store).
Meanwhile, it's still not even clear whether the number of tablet apps in the Android Market has hit four figures yet (Fortune has the number pegged at about 1,300, while GigaOm says it's a mere 170), while the HP TouchPad (which runs on another mobile software platform, dubbed WebOS) will have only 300 or so tablet-optimized apps available for its Friday launch.
here's the thing: 100,000 apps versus a few hundred—the numbers pretty much speak for themselves.
Source: MacStories