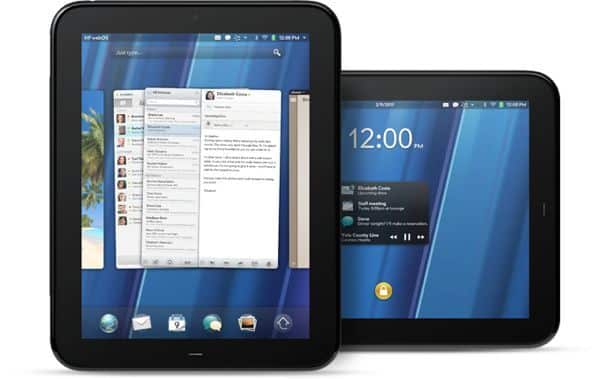 Remember Palm? The legendary mobile company built one of the original, pre-iPhone smartphones, the Treo, and made some serious waves a couple years back with its gorgeous but slow-selling Palm Pre.
Well, Palm is no more—it got gobbled up by Hewlett-Packard last April—but its sleek, easy-to-use WebOS mobile platform lives on in the 9.7-inch TouchPad tablet, which (we just learned) will arrive in stores July 1.
The TouchPad tablet itself (which I've yet to see in person, by the way) boasts most of the features you'll find on the latest cutting-edge tablets, including a state-of-the-art, dual-core processor ("dual-core" basically means two processor on a single chip, resulting in speedier, more efficient performance), a camera lens in front for video chat, and a 9.7-inch, 1024-by-768-pixel touchscreen—the same size and resolution as the iPad 2.
The new HP tablet ($599 for the 32GB version, or $499 for the 16GB model—again, equivalent to the iPad's pricing) will also come with a microUSB port (meaning you'll be able to plug in a USB-enabled memory card or device), and a nifty wireless docking station, dubbled "Touchstone."
Most importantly, though, the TouchPad will run on Palm's—or now, HP's—WebOS software.
What's so special about WebOS? First introduced back in 2009 on the Palm Pre smartphone, WebOS is a truly beautiful, intuitive, and rather powerful touchscreen platform that boasts features like email and text alerts that bubble up unobtrusively from the bottom of the screen, the ability to seamlessly pull contact information for your social-networking friends into your Address Book, and application windows organized like a deck of cards that you can swipe back and forth, or flick up when you're ready to quit.
Of course, the iPhone and Android smartphones support "multitasking" applications, too, but Palm's WebOS platform was the first to do it in an elegant, visually pleasing way.
And indeed, WebOS's subtle notification system is still superior to the iPhone's jarring pop-up windows—or at least, they will be until this fall, when Apple rolls out its new and improved notifications in the iOS 5 software update. (It's probably no coincidence that Apple poached from Palm the man responsible for WebOS's splendid notifications about a year ago.)
Nice, but there's just one problem: Palm's WebOS smartphones never sold all that well, and consequently, the number of apps in the WebOS app store is puny—about 6,000 or so, compared to more than 250,000 for Google's Android Market and a whopping 500,000 in the Apple App Store. The good news is that many of the most popular iPhone and Android apps are present and accounted for the in the WebOS app catalog, including Facebook, Evernote (an handy app that syncs notes with your desktop PC), the New York Times reader, Yelp, and yes…even Angry Birds.
In any case, those with a soft spot for Palm or the old Treo should certainly give the new TouchPad a look—and even if you've don't know a Treo from a Droid, the TouchPad might make for a friendly, easy-to-use alternative to the iPad or the latest Android tablets.
Got any questions about the TouchPad—or WebOS, or Palm, for that matter? Let me know.