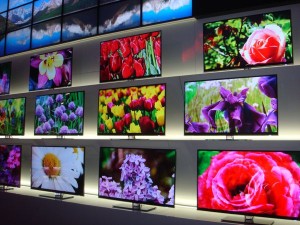 So you're browsing the aisles at your local big-box retailer, shopping for a big, beautiful HDTV, and you're stumped.
On the left, you've got the 60-inch Samsung UN60D6500, while on the right sits the UN60C6500—same size, same basic look. What's the difference between the two?
Well, with the help of the aptly named HDTV "model decoder" from online shopping site Retrevo, we can tell that the first set is the more recent model, while the second is from last year.
The secret: the "D" and "C" smack-dab in the middle of each cryptic model number, with "D" standing for 2011 and "C" denoting 2010—yesterday's news, in other words.
The Retrevo guide, which you can easily print out and take with you the next time you go HDTV shopping, also tells us that "UN" stands for an LCD display with LED backlighting (for sharper contrast and deeper, darker black levels), the "60" refers to screen size, and the "6500" at the end means Samsung's 6000 Series, a line of HDTV sets that includes features like built-in Wi-Fi and Internet-enabled "Smart TV" widgets.
Retrevo's HDTV decoder also breaks down model numbers for Sony, Vizio, Panasonic, and LG sets, along with crib sheets for specially branded features like Sony's "Motion Flow" (a technology that smooths out the jitter between frames, making filmed content look more like video—a really weird effect, if you ask me) and LG's Smart TV (for Internet-enabled widgets, similar to Samsung Smart TV and Sony's Bravia Internet Video).
Last but not least, the guide lists alternate model numbers used by such big-box retailers as Costco, Sam's Club, and Best Buy—a gambit the big stores use to skirt price-matching policies, Retrevo notes.
Visit: Retrevo's HDTV Model Decoder