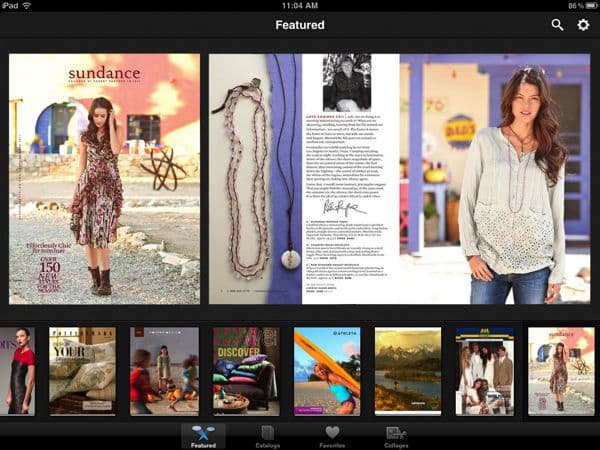 The new—and free—Google Catalogs app takes all the paper catalogs piled on your coffee table and puts them on the iPad, perfect for searching, tapping, and swiping.
Google isn't the first company to dream up a catalog app on the iPad, mind you. There's also Catalogue and Catalog Spree, as well as individual catalog apps from stores like Pottery Barn and Ikea.
That said, the slick, easy-to-use Google Catalogs app (available for download as of Tuesday) makes for yet another compelling reason to toss your paper catalogs into the recycling bin—for good.
Stuffed with catalogs from nearly 40 retailers ranging from Atheleta and Bloomingdale's to Sundance and West Elm, Google Catalogs lets you swipe and search through exact digital versions of the paper catalogs, complete with tappable price icons that display detailed descriptions, additional photos, and links for buying an item on the web.
You can "pinch" or double-tap to zoom into a page, share items via email, "favorite" a page by tapping a heart-shaped icon, or even create collages of items from different catalogs.
Searching works quite nicely, too (not a huge surprise, given this is Google we're talking about). Just type, say, "jeans" into the search form, and you'll get a thumbnailed view of all the catalogs featuring jeans for a given month. Tap an issue, and the pages with jeans will fly into place.
Not bad, but the fun ends once it's time to pay. Like its competing catalog apps, Google Catalogs sends you to a retailer's web site once you're ready to pull out your credit card—rather than, say, letting you toss all your picks from different catalogs into a single shopping cart and paying for everything at once.
Speaking of competitors, Catalog Spree for the iPad also serves up digital catalogs (about 32) that look just like the print version, although the app won't let you search all its catalogs at once.
Catalogue, meanwhile, offers more catalogs than Google or Catalog Spree (more than 70) and formats the catalogs specifically for the iPad, complete with jumbo-sized photos and the option to add individual catalogs and items into a "My Catalog" page.
Can't decide on a single catalog app? Well, they're free, so there's nothing stopping you from downloading them all.