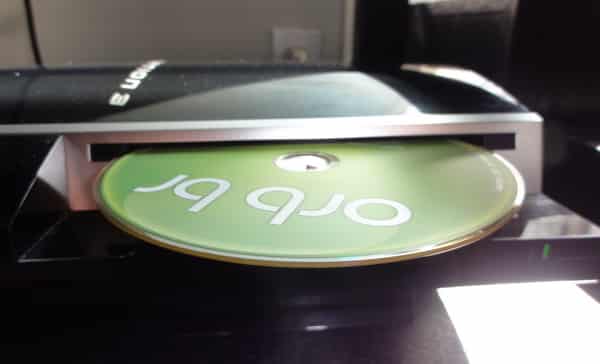 Got a PlayStation 3 in your living room and a PC or Mac in the den? If so, you have everything you need to stream Hulu videos to your TV without coughing up $8 a month for the premium Hulu Plus subscription service.
Orb's $19 "BR" disc has been on sale for a couple of months now, and I actually got a preview of the thing back in January at the Consumer Electronics Show in Las Vegas. There's also a $10 Orb Live app that streams videos directly to the iPhone and Android devices, as well as a $99 set-top device that connects to any TV with composite or component video inputs.
I've finally had the chance to try the Orb disc with my own PlayStation 3 console, and yes—it works as advertised, although you'll have to jump through some hoops to get your free Hulu.
Here's how the Orb system works in practical terms. First, you insert the Orb BR disc into your PlayStation 3's Blu-ray drive (an Orb disc that supports other Blu-ray players is supposedly coming soon) and press play.
Next, you install the free Orb Caster software onto your PC or Mac, create an account (the on-screen setup process takes only a few minutes), and leave the application running on your machine.
Last but not least, you use the (free) Orb Controller software—versions are available for PC, Mac, iPhone, iPad, and Android handsets—to control the video playback. Nope, you can't use your regular TV remote to take command of the Orb streaming software.
Once you start the Orb Controller, you'll get the option to stream music, videos, and photos from your system (the one with the Orb Caster software running on it). You can also connect to Internet radio services like Pandora and Last.fm, or watch videos from YouTube.
Not bad, but the option that has everyone excited about Orb is Hulu, which offers free videos on the web but normally requires an $8-a-month Hulu Plus membership if you want to stream its shows on your TV, the iPhone, or the iPad.
But with the Orb Caster software on your PC and the Orb BR disc in the PlayStation 3 (both of which must be connected to your home Wi-Fi network, by the way), you can watch Hulu's free web-based videos on your TV for the low price of zero.
Wait a minute … is this legal? Well, I've had this discussion with Orb co-founder and CEO Joe Costello a couple of times now, and he swears it is. Why? Because of the Orb Caster software running on your PC, which is merely streaming the video from Hulu's web site from your desktop to your TV.
Of course, the suits at Hulu probably don't see it that way, but thus far they've done nothing to block their videos from Orb's software. Yet.
So, that's how the Orb BR disc is supposed to work. But does it really work?
In my brief tests, the answer is yes, more or less. The setup and operating is a hassle, namely because the Orb software must be up and running on your PC any time you want to stream video to your PlayStation 3 or one of Orb's mobile apps.
You'll also have to be patient, as Orb-streamed videos (from Hulu or elsewhere) can take up to a minute to "buffer" before playback begins, depending on the speed of your Internet connection.
Video quality can be a little blocky and choppy—don't count on HD, especially for Hulu—and the Orb Caster software on my PC occasionally crashed, meaning I had to get up off the sofa, go back to my office, and re-start the Orb client on my system.
So, is it all worth it? That depends on how much you mind having to turn on your TV, your PlayStation 3, your computer, and potentially your iPhone, all just to watch a little free television.
Personally, Orb isn't my cup of tea—too clunky, if you ask me. That said, it does works, and it's definitely cheap.