Shoot first, focus later: that's the idea behind the Lytro, a potentially groundbreaking new camera that promises to change the way we take—and view—pictures.
Enticing stuff, but is the Lytro camera for real, and will it live up to the hype? Read on for 6 questions—and answers—about the buzzy new contraption, starting with…
1. What's so special about the Lytro?
So, here's what you do with most camera: you point, you focus (or you let the camera's auto-focus do the work for you), and you shoot. And while you can always import your snapshots into a photo editor for cropping and tweaking, you can't change the focus—bad news if your picture happens to be out of focus.
First announced back in June, the Lytro doesn't bother with a focus knob. Instead, it uses what's called a "light field" sensor (here's a lengthy technical explanation, if you're really interested) to gather up to 11 million rays of light in a given scene, including the rays that aren't pointing directly at the camera lens.
The result? A photo that you can you focus after you've taken it—and thus, no more out-of-focus snapshots.
Here's an example from the Lytro website; just click anywhere in the photo to re-focus it:
2. Sounds amazing, but does it actually work?
Members of the press finally got the chance Wednesday to check out the Lytro first-hand at a demo in San Francisco (I wasn't there, unfortunately), and yes—it appears to work as advertised.
But whether the Lytro—a rectangular, four-inch-long gizmo that resembles a "miniature telescope" (as PC World put it) more than a typical digital camera—could actually replace a standard point-and-shoot remains to be seen, and it's worth noting that no in-depth reviews have published yet.
3. How do you actually view these pictures?
Because the Lytro viewing software comes embedded in the actual photos, you can share the interactive snapshots online with anyone, even on Facebook. Pictures taken on the Lytro can also be converted to 3-D, although you'll need 3-D glasses to view them properly.
Pretty neat, but there's a catch: the Lytro's photo management software, which you'll need to export your pictures, will (initially at least) only work on Macs.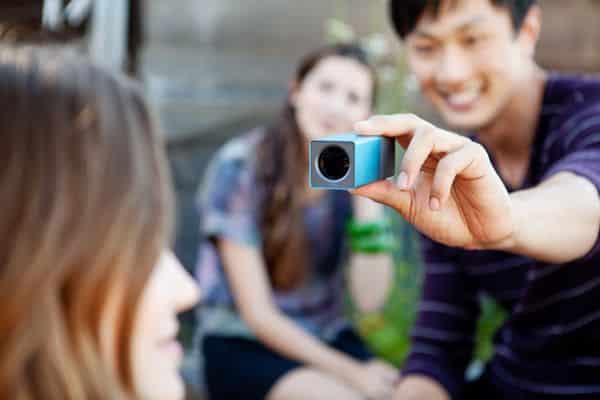 4. OK, where can I buy one?
The Lytro camera isn't shipping quite yet, but the company is already taking pre-orders, and it's promising to fill them starting early next year.
5. And the price tag is…?
Not cheap. The 8GB versions of the Lytro (available in graphite and electric blue) will sell for a cool $399, a couple hundred more than an entry-level point-and-shoot camera. The 16GB Lytro, meanwhile, will go for $499.
6. So, here's the big question: should I get one?
Well, that depends on how adventurous you're feeling—and how much money you've got to burn.
As I said, there haven't been any in-depth reviews of the Lytro yet, but those who have seen the camera in action seem to be taking a wait-and-see approach. "The concept of shoot now, ask focus questions later is revolutionary," writes Engadget, but adds that for now, the Lytro is merely a "novel toy"—a sentiment echoed by PC Magazine, which calls the Lytro "a great stepping stone but not much of a product by itself."
Also, don't forget that the Lytro is a first-generation product—which means that cheaper and more polished versions are sure to follow.
Think back to the first Kindle, an exciting, game-changing product that landed in 2007 with a $400 price. Today—a mere four years later—you can buy one with more memory and a better screen for seventy-nine bucks.
Now, the makers of the Lytro may truly be on to something as revolutionary as the Kindle was (and is). Unless you must have the latest and greatest gadgets the moment they go on sale, though, you may want to wait a few years before jumping on the bandwagon.
So, what do you think of the Lytro: impressed? Skeptical? Will you buy one? Cast your vote in the comments below.