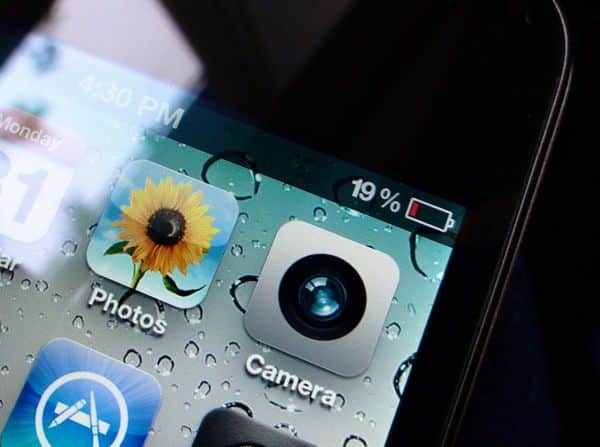 Is your brand-new iPhone 4S barely making it through the day on a single charge? Join the club.
Hundreds of iPhone 4S users are lighting up Apple's support forums to complain about a steady—and mysterious—drain on the batteries, even when their handsets are resting peacefully in standby mode.
Update (11/10/11): Apple just released a software update that supposedly fixes the iPhone's battery woes; get the details right here.
Says one message on the iPhone help board:
My 80 year old mother just bought a Verizon iPhone 4S, her first smartphone. She lives alone, and takes her phone to bed with her as security and for emergencies. She charges it during the evening, and it now is completely dead by morning. I've switched off everything that is known to be a battery drain, but can't solve the problem.

She was so excited to get an iPhone, as she's loved her iPad. But this experience has her worried and stressed that if she needs emergency assistance, she won't have a working phone. She's ready to go back to a plain basic phone since the iPhone won't even hold a charge for 8 hours.
It's also not clear whether only the iPhone 4S is having battery trouble. Many users who've installed the new iOS 5 update on their iPhones have also been complaining of poor battery life … and come to think of it, my own iPhone 4 seems to have been running low on juice ever since I updated it.
Users and tech bloggers have whipped up dozens of remedies for the iPhone battery-drain problem, ranging from turning off a feature that automatically sets the iPhone's clock to the correct time zone (which shouldn't cause much harm, so long as you're not boarding a plane anytime soon) to turning off Notification Center support for the iPhone calendar.
But here's the thing: no one single battery-drain remedy seems to work for everyone. Instead, the likely culprit is something buried in the iPhone's system software that only Apple can fix—and indeed, Apple has reportedly been quietly working with iPhone 4S users in the hopes of diagnosing the problem.
It's also worth noting that previous iPhone models have suffered from battery-drain problems that have eventually been solved by a software update—so no, the iPhone battery itself probably isn't to blame.
My advice: instead of driving yourself crazy trying battery fixes posted on message boards, hang tight until Apple releases an (inevitable) software update. I'll update this post as soon as there's any news, and you'll be able to install the update by either syncing your iPhone with iTunes or (if you've updated your handset to iOS 5) by tapping Settings, General, Software Update.
In the meantime, you can conserve power on your iPhone by turning down the brightness of your screen (Settings, Brightness) and turning off "push" email (tap Settings, Mail, Contacts, Calendars, Fetch New Data, then switch "Push" to "Off").
How's the battery life on your iPhone been lately? Found any fixes that seem to work? Post 'em in the comments below.