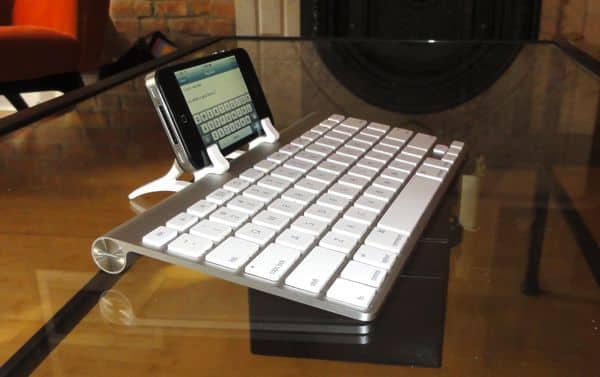 Want to use an actual keyboard with your iPhone or iPad? Here's a clever idea: a pair of plastic clips that snap onto Apple's wireless keyboard and hold your iDevice at just the right angle for typing.
What is it?
Dubbed Wingstand, we're basically talking a pair of light, plastic clips that snap precisely on the rounded back of Apple's Bluetooth keyboard ($69). Available in black or white, the clips boast slots for propping up an iPhone (including the 4S, the 4, and the 3GS), iPad (both models), or iPod Touch.
How much is it?
$15 online
Does it work?
Yep, just as advertised—and indeed, I got a kick out of using Wingstand for typing with a full-size keyboard on the diminutive screen of my iPhone.
Any downsides?
The clips can be a little tricky to snap onto—and off of—the Apple Bluetooth keyboard. Speaking of which, the Wingstand will only work with the Apple wireless keyboard.
Will Wingstand work with Android phones and tablets?
Theoretically, yes, as long as you can get your Android device to connect to the Apple keyboard via Bluetooth.
Alternatives to the Wingstand?
Dozens (click here for iPhone and here for the iPad), many of which are cheaper than the $15 Wingstand clips—although few are as elegant, I must say.