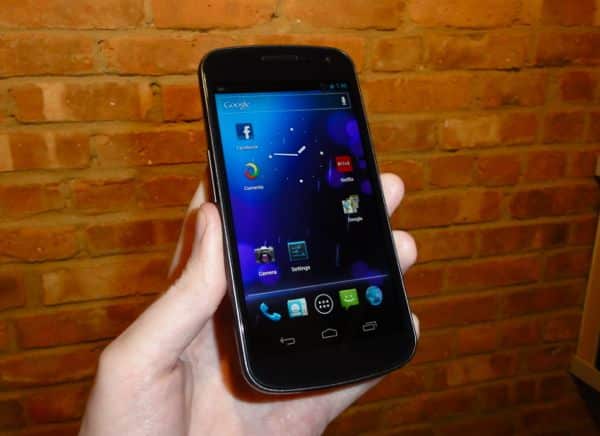 The first smartphone running on Google's newly-updated Android platform is here, and it's a beaut. With its jumbo HD display and button-less face, the Samsung Galaxy Nexus is scene-stealer, no doubt about it. But is it worth the hefty $299 price tag?
Slim body, huge screen
First things first: let's talk about the Galaxy Nexus' gorgeous display, which measures a whopping 4.65 inches from one corner to the other, versus just 3.5 inches for the iPhone. Even better, the screen itself is one of the few on a smartphone to quality as true HD quality, with a pixel resolution of 1280 by 720—the same as on many big-screen HDTV sets. Impressive.
Despite (and perhaps because of) its overall size, the 5.1-ounce, 0.37-inch-thick Nexus feels surprisingly thin and light. Strangely enough, it feels lighter than the smaller iPhone 4, which is actually slightly thinner and lighter than the new Nexus. Go figure.
It's the first "Ice Cream Sandwich" phone
OK, so what does ice cream have to do with smartphones? Well, "Ice Cream Sandwich" is Google's code name for the latest version of Android—version 4.0, to be exact.
You can read my rundown of the 10 most important things about Ice Cream Sandwich right here, but suffice to say that the revamped OS brings several features of the latest Android tablets to the smaller screen of a smartphone, along with a clever "face unlock" feature (which lets you unlock your phone with your face) and the ability to set a "hard" usage limit for mobile data.
Where's the home key?
The Galaxy Nexus marks the first in what's sure to be many more "Ice Cream Sandwich"-powered Android phones to arrive without any hardware keys at all—well, besides the power and volume buttons, anyway.
Instead, you only get three on-screen navigational keys—Back, Home, and a third for pulling up a list of running applications—at the bottom of the screen, and even those virtual keys may disappear in some circumstances.
The Nexus' missing home key is a bit disconcerting at first, until you realize that you can always make them appear again by tapping on the bottom of the screen.
So, is losing the physical "Home" key a good thing or a bad thing? That depends on your point of view, of course. If you like the idea of twirling your smartphone this way and that without worrying which way is "up," you probably won't miss the plastic Home key at all. But if you like having at least one "real" button you could press, the missing Home key might leave you feeling a bit unsettled.
It's a great "cloud" phone
I've said it before, and I'll say it again: Android phones are a cinch to set up for Gmail users, and the Galaxy Nexus is no exception. Just sign in with your Google account, and bam—your email, contacts, and calendars are synced automatically. And if you use Google's Picasa and (especially) the new Google Music service, your online photos and tunes will be instantly synced, too. I love it.
Multitasking made easy
Among many other features borrowed from the latest Android tablets, the Galaxy Nexus (as well as other forthcoming "Ice Cream Sandwich" phones) boasts a handy multitasking bar.
Just tap the on-screen button right next to the virtual "Home" key, and a column of running apps will appear, complete with a thumbnail of the app "frozen" in the background. Just flick and tap to switch to another app. Nice.
It's peppy
Under its hood, the Galaxy Nexus is powered by a 1.2 GHz dual-core processor, which means it has two processor cores soldered onto a single chip; in other words, it's a "two heads are better than one"-type situation. Thanks to all that horsepower, the Galaxy Nexus is one peppy phone—pages load quickly, screen animations are smooth, and rarely did I catch an app chugging or stalling.
Nifty, but here's the thing: in the not too distant future (probably within the next year or so), expect to start seeing smartphones with four-core processors instead of just two. In other words, it won't be long before the Galaxy Nexus' hefty engine (not to mention the processors in many other current, cutting-edge Android phones) looks like yesterday's news.
So-so picture quality
The Galaxy Nexus comes armed with a five-megapixel camera that shoots 1080p-quality video—not bad, but not quite up to snuff with the eight-megapixel cameras in recent state-of-the-art smartphones. Indeed, my test shots and videos on the Galaxy Nexus were marred by a fair amount of noise and muddiness, especially in low-light conditions—par for the course for most handsets, but well shy of the image quality you'll see from the best smartphone cameras.
Back on the plus side, though, photos are snapped the moment you tap the shutter release, and you can take 360-degree shots using the build-in "panorama" mode. There's also a front-facing camera for video chat using Skype or another video-messaging app.
Wrestling with the battery
Reports are already pouring in about the Galaxy Nexus' iffy battery life, particularly when the phone is connected to Verizon's speedy but power-draining 4G data network. After testing the new Nexus for the past several days, I found that the handset's battery held up fine under normal use—say, a few phone calls here and there, some light web surfing and email checking, a video or two. That said, expect the battery meter to dip quickly if you're streaming video, uploading snapshots, or using the Nexus as a 4G hotspot.
The good news, though, is that the Nexus has a replaceable battery—meaning that in a pinch, you could swap out a dead battery with a fresh one.
Also, Google's Ice Cream Sandwich software comes with a control panel that shows you which applications are hogging the most power, along with the option to quickly shut down any app before it sucks the battery dry.
No slot for memory cards
One of the biggest advantages that many Android phones have over the iPhone is that they come with slots for teeny, tiny microSD flash-memory cards, perfect for expanding your handset's memory capacity or quickly moving large media files from your PC to your phone.
The Galaxy Nexus, however, doesn't have a microSD memory slot; its 32 GB of internal storage is all you get.
It's pricey
At $299 with a two-year Verizon contract, the 32 GB Galaxy Nexus is the same price as the equivalent 32 GB iPhone 4S—fair enough, right? The only problem is that there isn't a cheaper 16 GB version of the new Nexus as there is for the iPhone, which starts at $199 for the 16 GB model.
And the verdict is…
No question, the Samsung Galaxy Nexus is an impressive phone by virtue of its "Ice Cream Sandwich" software and glorious 4.65-inch display. Given the fast pace of Android phones, though, it won't be long before this latest Nexus is eclipsed by an Ice Cream Sandwich-powered Droid or Evo handset, particularly in the camera department—and that'll be a bitter pill for anyone who's just put $299 on the barrelhead.
My advice: Unless you're a die-hard Android fanatic who must have the first Ice Cream Sandwich phone right now, I'd wait until the Galaxy Nexus gets a price cut—or until the next Ice Cream Sandwich-equipped superphone comes along.