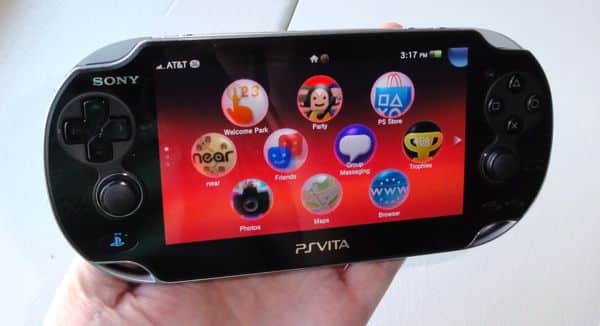 Who needs a dedicated handheld game console like the new PlayStation Vita when you download hundreds of cheap games for your iPhone or Android phone? A dad-to-be like me, that's who.
Now, don't get me wrong: I've got nothing against slicing and dicing watermelons in "Fruit Ninja" or getting triple-word scores in "Words With Friends" on my iPhone 4, especially while I'm stuck in a crowded subway car.
But sometimes, I want a real gaming experience—that is, a deep game with cutting-edge graphics, hours of complex gameplay, and precision controls, something that even the best iPhone and iPad games can't quite offer.
Up until now, I've gotten my gaming fix from the PlayStation 3 or Xbox 360 in my living room (yes, I have both—for work, I tell you!), but here's the thing: in about a month, my wife and I will be the proud parents of a baby girl, and something tells me that blasting away bad guys on my 46-inch HDTV, mere inches from the crib, isn't going to fly anymore.
And that's why I couldn't be happier the PlayStation Vita is sitting in my hot little hands.
A handheld gaming powerhouse
Slated to make its official debut February 22 (a "first edition" bundle went on sale on the 15th), the Vita ($250 for the Wi-Fi version, or $300 for the 3G/Wi-Fi model) easily ranks as the most powerful portable gaming system ever released.
Armed with an eye-popping five-inch touchscreen, a roomy rear trackpad, front- and rear-facing cameras (intended more for "augmented reality" games than for taking photos), a series of motion sensors, and a souped-up, quad-core processor (think four processors on a single chip), the Vita is capable of churning out graphics approaching those of the current crop of home gaming consoles.
More importantly, the Vita comes equipped with an arsenal of physical buttons and triggers, plus a pair of joysticks similar to those on Xbox 360 and PlayStation 3 controllers.
Thanks to the twin joysticks—as opposed to, say, the sloppy, slippery "virtual" joysticks you'll find on too many iPhone and iPad games—gaming on the Vita feels awfully close to playing on a full-size console.
Sure, you can also use the Vita's touchpads and motion controls, just like you would on an iPhone; frankly, though, I mostly stuck with the old-school thumbsticks.
Stylish and substantial
Unfortunately, all those controls plus the jumbo five-inch screen adds up to a device that won't slip into your pocket like an iPhone. Weighing in at about nine ounces and measuring a relatively bulky 7.2 by 3.3 by 0.7 inches, the Vita demands a tote bag, a purse, or even knapsack; good luck cramming it into a jeans pocket.
So yes, it's big—compared to a smartphone, anyway—but the Vita also boasts a stylish, substantial feel that's matched by its sleek, friendly home screen, complete with a matrix of bubble-shaped icons and even a soothing, Muzak-style soundtrack. (Some gamers say the Vita's home-screen music is driving them nuts; my wife, on the other hand, thinks the soundtrack is lovely—and the more she likes the Vita, the more I get to use it. Besides, you can always muzzle the tunes via the Vita's settings menu.)
Navigating the Vita's menus is a simple matter of tapping and swiping, just like on an iPhone or Android phone. To launch an app or a game, you first pull up its "LiveArea" page, which includes help and update information, alerts about any "trophies" you've earned for a given game, and a "Start" button. To close a LiveArea, you just peel it off the screen with a swipe of your finger. Nice.
Speaking of apps, the Vita boasts a music player for tunes, a media player for renting movies, a custom version of Google Maps, and "Near," a social app that lets you find and compare scores with other nearby Vita gamers. Near also keeps track of your daily travels and even lets you trade "game goods" with your fellow players—pretty neat, although you can also keep your identity and location hidden if you're feeling shy.
Of course, a gaming console is only as good as its games. I've only played a handful of the Vita's 20-odd launch titles so far—but what I've played, I've liked.
Bring on the games
Take "Uncharted: Golden Abyss," a tongue-in-cheek adventure game that cheerfully plunders "Raiders of the Lost Art" and "Tomb Raider." A Vita-ized version of the popular PlayStation 3 franchise, "Uncharted" plunges you into a lush, detailed jungle complete with roaring waterfalls, swinging vines, treacherous rope bridges, and dozens of armed baddies—and I have to say, it looks great.
Yes, the graphics look a bit "jaggy" compared to the smooth graphics in the PS3 editions of "Uncharted," but "Golden Abyss" still manages to create an engrossing, immersive world, with characters that look, act, and react realistically, acres of jungle to explore and a slew of puzzles to solve. You can also tap the screen to leap across a ravine or shimmy up a vine by swiping the rear touchpad—but if you'd rather just use the buttons and joysticks to control Nathan Drake, the hero of "Golden Abyss," you're perfectly free to do so.
Then there's "Wipeout 2048," a thrilling, futuristic racing game that puts you in the driver's seat of a souped-up hovercraft. Hurtling around a racetrack that looks like something from a "Star Wars" prequel, you'll face off against computer-controlled and online opponents, and it's an exhilarating ride. As with "Uncharted," the graphics aren't quite as smooth and detailed as those in the PS3 versions of "Wipeout," but they're awful close.
The most impressive Vita game for me so far is one I'd least expected: "Virtua Tennis 4," a tennis simulation that lets you match rackets with the likes of Roger Federer, Rafael Nadal, Maria Sharapova, and Serena Williams. "Virtua Tennis" comes with quick "arcade" modes as well as full-on tournaments in stadiums from Flushing Meadows to the All England Lawn Tennis Club, and it looks amazing: we're talking silky smooth graphics, from realistic models of famous faces from the game to the scuff marks on the court. I know how I'm spending my weekend.
There are plenty more Vita games to explore, from big-name titles such as "Ultimate Marvel Vs. Capcom 3" (a fighting game starring Spider-Man, Captain America, and Doctor Strange) and small but intriguing games like "Escape Plan" (an atmospheric black-and-white adventure that makes clever use of the Vita's touch controls). Keep in mind, though, that the Vita's catalog of games is only in its earliest days; indeed, it can take years for a given console to rack up a deep, satisfying collection of titles.
The Vita's hidden cost: memory cards
What are the biggest complaints about the Vita—besides its $250-and-up price tag, that is? As I described in an earlier post, there's a hidden cost to the Vita: its proprietary memory cards, which are required for saving game data and cost anywhere from $20 for a 4GB card to a whopping $100 for a 32GB card. A garden-variety 32GB memory card for a digital camera, on the other hand, only goes for about $40.
Then there's battery life—just four to five hours, depending on the game you're playing. That's fine for a quick gaming fix while the baby naps, but not ideal if you're taking the Vita on a trans-Atlantic flight.
And then there's the games themselves, which run anywhere from $10 to $50 a pop—far more than most iPhone and Android games, which rarely sell for more than $10 each.
Is the Vita right for you?
So, should you get the Vita? Well, for me, it's a no-brainer. The Vita promises console-quality gaming in the palm of my hand, whether I'm on call with the baby or cooling my heels at an airport terminal.
The Vita is pricey, no question, and its full potential probably won't be realized for a few years while we wait for a deeper slate of games. But as a soon-to-be-parent who's about to see his Xbox 360 and PS3 use seriously curtailed, the Vita couldn't have come at a better moment.
But what if you're a more casual gamer who's happy with "Angry Birds" and "Cut the Rope"? In that case, there's no need to drop $250 on yet another device—or at least, not until the perfect Vita game for you comes along.
Have questions about the Vita, or any impressions of your own you'd like to share? Post 'em in the comments below!
Note: The PlayStation Vita that I reviewed is, in fact, my own. Specifically, I purchased the $350 "First Edition" bundle.